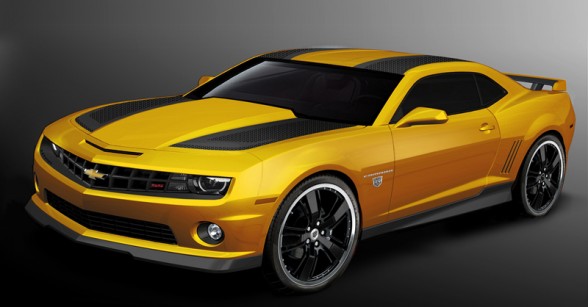 With the release of the newest addition to the Transformer franchise we not only see a HOT new chick (Victoria's Secret model Rosie Huntington-Whitely), but we also witness the return of one of America's favorite muscle cars.
Closely resembling the Autobot "Bumblebee" in Transformers: Dark of the Moon, the 2012 Transformers Special Edition Camaro rolls off the lot with dealer-installed 21-inch, black-painted wheels and a black ground-effects package. Available this fall, the "Bumblebee" features black rally stripes that stretch over the hood, roof, and decklid. The interior features black leather seats and yellow stitching on the panel, center console, armrests and seats. If that wasn't enough the Autobot Shield logos are embroidered on the front headrests and the center console lid. Two models will be available, the on 2LT and 2SS Camaro Coupes with Rally Yellow paint.
"The Transformers franchise has helped introduce Camaro – and Chevrolet – to a whole new generation of fans," said Rick Scheidt, vice president of Chevrolet marketing. "Its role in the films helped make the Camaro the best-selling sports car in America and one of the best-known cars of any kind around the world."
In 2009, the Camaro was the most-searched-for car on the web, according to Yahoo!Autos. The 2012 Transformers Special Edition will be offered as a $3,000 package on 2LT and 2SS Camaro Coupes with Rally Yellow paint. With hot chicks and muscle cars such as the Bumblebee Camaro, Transformers: Dark of the Moon is sure to be a box office hit this weekend.
VIDEO
Tags 2012 transformers special edition camaro bumblebee bumblebee camaro chevrolet camaro shia labeouf tf3 transformers Transformers 3 transformers camaro