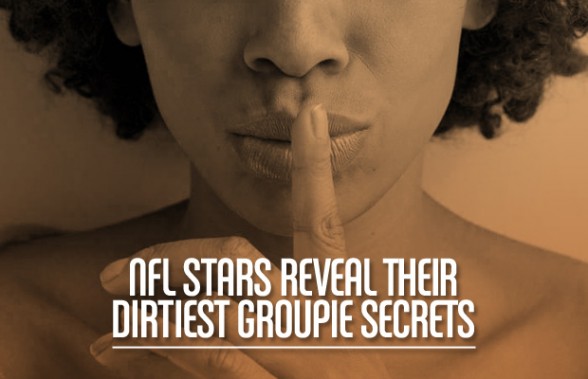 Football season is upon us. Any Bro who has been around or was actually a jock already knows, where there are "players" there will be groupies. As part of Complex.com's week-long NFL Preview, they surveyed several NFL players to get a glimpse into just what the groupie scene is like these days. They discusses the in's and outs of Groupie's aspiring to live "that life" cities with the ugliest groupies, the hotel scene, and how social media has become the primary tool for how groupies reach out to many NFL players. Complex covers 13 topics, but we have to admit "the craziest groupie stories" are by far our favorite.
Check out the excerpt below:
What's the craziest groupie story that's happened to you?
"In L.A. this chick domed me and my partners up. We left the room and our other homeboy went in to go fuck. We hear her moaning in the room, we're laughing. And then all of a sudden we hear this weird noise. We thought she was choking him. We ran into the room to see what was going on, and it turns out that when he busted his nut, he threw up on her at the same time. Shit was hilarious and disgusting." – NFL Pro Bowl tackle
"A girl was waiting outside my house. I wasn't answering her calls or texts. Then all of a sudden she just started knocking on my door. I called the cops. [Laughs.] She knew I was inside, but I never came to the door because I had company. The police were calling her name outside and everything, talking about '[Player's name] called us and told us you were making a disturbance.' And then she's like, 'Oh, so HE IS HOME!' really loud. It was funny." – Pro Bowl defensive lineman
"I met a girl on Twitter from Texas. She hit me up and asked me to mentor some kids. I told her I don't live in Texas but I'll do it in the offseason, which was around the corner. We exchange numbers, and I get a picture from her the next day. She says it was an accident and she meant to send it to her brother. It was a regular pic, I told her she looked nice. I was just being cordial, no flirting or nothing. We're just talking casually, and then she hits me the next day and says, 'If you liked yesterday's pic, you're going to love this one'…she was ass naked! All of a sudden, she wants to come to the city I play in and visit me, etc. I'm not biting though…
What's the craziest groupie story you've heard about?
"We meet this one chick and chop it up with her in the lobby. She says she's down to suck us all up. Me and my homeboy stay down in the lobby at the bar and my other friend goes up to the room with the girl. We get up there about 15 minutes later, and the girl is crying. My friend is cussing her out bad calling her all types of hoes. She sucked him up, but I have no idea why she was crying. My homeboy that was with me at the bar went up to her and was trying to get a blowjob and she said she didn't want to do it. She put her hands back in her face. His dick was already out so he's standing next to her and all of a sudden bust on her shoulder. She raises up and was like 'Are you serious?' and just lost it and started laughing actually. It was pretty funny." – Pro Bowl right tackle
"We were at the club one night. We had a table and there was a group of girls next to us at another table. There were about ten of them. Well my homeboy got to chopping it up and he fucked all 10 of them in one night. I have no clue how he did it." – #29 who shall remain nameless
How do they get in contact with you?
"Social media mostly. They also give you the groupie stare at the club too. Just stare at yo' ass until you speak to them. Be hypnotizing guys [laughs]." – NFL Pro Bowl lineman
"They just stare at us when we're in the club. Like deliberately. It's like you're going to the dog pound, and they're just waiting to get chosen. They will literally stare at you in VIP until you ask them if they want to come to VIP." – An anonymous #24
"Mainly in the clubs. Anytime there is a big event like a Super Bowl or All-Star weekend, they are around. They make sure to get your attention by the way they dress or they'll approach you. I've had girls slip their number in my pocket before. When they come up to me, they'll say they're your biggest fan or 'I can tell you play football by the way you're built.'" – Former NFC East safety
For the entire article make sure to head over to Complex.com
Tags advice Football Groupies Models NFL Relationships Stories