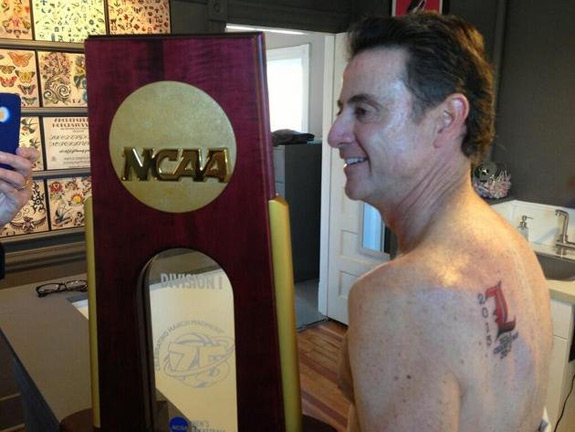 Photo Credit: Kenny Klein
Maybe it's us, but we don't think Rick Pitino's tattoo is very manly. Forget that it's not a good look for a man with all his flare; it's just lame. Rick has that Pat Riley swag with all the charm of Jerry Tarkanian; however, his new tattoo forces us to take a "different" look at the two time NCAA Division I Champion (1996, 2013) coach. Why Rick, why?
Photo Credit: Kenny Klein
We are glad that he proved to be a stand up guy and kept his promise to get a tattoo after his team won the national championship, but we wish he would have chosen something a bit more appealing. The red Louisville "L" with the "2013" written vertically is so not sexy. Also, if you look closely the spacing is off between the A's in NCAA. Yes, we noticed.
The smart play would have been to do something creative that referenced both of his championship victories. Getting this hideous tattoo at 60 years of age is just WRONG! We blame the tattoo artist for doing such a crappy ink job and Rick's wife just because.
Rick Pitino was formally introduced as a member of the Hall of Fame's class of 2013 earlier this year. He holds the distinction of being the only men's coach in NCAA history to lead three different schools (Providence, Kentucky, and Louisville) to a Final Four and the only coach in the NCAA to lead two different schools to a NCAA National Championship (Kentucky and Louisville). When he is not coaching Rick hits the circuit as a motivational speaker and promotes his books. Let's just hope he doesn't promote his new tattoo. There is nothing motivating about it.
Tags Louisville Tattoo NCAA NCAA Basketball NCAA Division I Champion Rick Pitino Rick Pitino Tattoo Sports