Photo Credit: Star Walker
One of the perks of writing about men's lifestyle is often we are invited to some very cool events with some very cool women. Mankind Unplugged recently had the wonderful opportunity to get fit and work out with Jamba Juice, tennis star Venus Williams and some of the biggest fitness influencers from around the blogosphere. The day was filled with fun, fitness, food, and a bunch of girls in workout clothes.
It started with a bang and a bucket of sweat. Before we went through a variety of fitness boot camps with the Jamba Pop-Up FiTrends Expo instructors, we had an opportunity to taste some of Jamba Juice's new and very tasty flavors, including Tropical Harvest, a fresh new addition to Jamba Juice's Fruit & Veggie Smoothie line. It's a tasty fusion of mangos, peaches, passion mango juice and vegetable juice (butternut squash, sweet potato, and carrot) with ice…and it's delicious.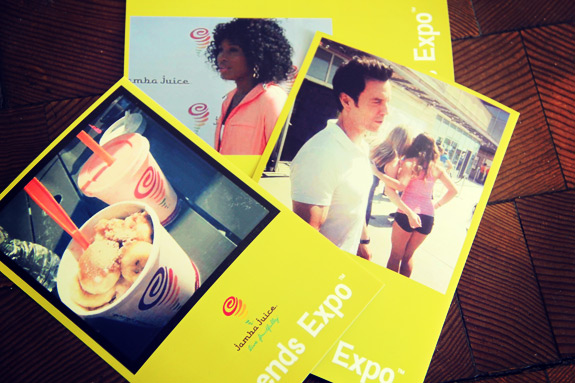 Photo Credit: Star Walker
Jamba Juice kept with the theme of the day, encouraging everyone to "Live Fruitfully," by treating participants to a variety of Jamba Juice treats between workouts. The very enjoyable snacks included steel-cut oatmeal, freshly squeezed juice, and smoothies. We also had time for fun with the photo booths and hanging out with Tony Horton, creator of P90X (and a pretty hilarious guy in his own right).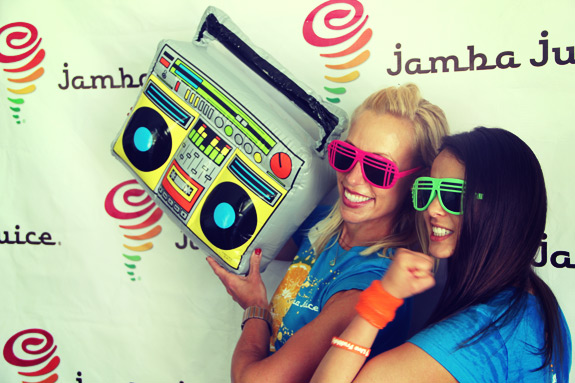 Photo Credit: Star Walker
The FiTrends Expo showcased some of the latest trends in fitness, including Piloxing (Pilates + Boxing), LaBlast, Broadway Bodies, and our favorite, Bokwa. Before we headed over to a question and answer luncheon hosted by Jamba Juice, Venus also got in on the action and lead the final workout session along with her trainer, where she shared some of her tennis fitness techniques
Photo Credit: Star Walker
Venus, who owns three Jamba Juice stores in Bethesda, MD, and two in DC, was the quintessential professional the entire day. Over lunch, she told us about her top fitness tips and secrets, as well as her love for design and art. We didn't get a chance to ask her about her upcoming documentary "Venus and Serena," but she answered questions about her fitness and eating habits.
What are some of the coolest trends in terms of workouts and food?
I would say juicing is huge. A lot of people are just more aware of what they're putting in their bodies, people from all walks of life (regardless of) where they're from or where they are. I would also say raw (eating) is getting a lot more (popular).
You've been at the top of tennis for what feels like forever. How have your training and fitness changed from 10 or 15 years ago to now?
When I was a teenager, I'd like, forget to eat. It'd be like three or 4 o'clock, and I'd be like 'Oh, I'm supposed to eat.' Now I can't possibly do that or I'd have no energy. So that's a huge change.
Also as you get older, as you get wiser and looking for ways to improve your performance, you try to look at different options, try different things. When you're a professional athlete you never reach what you think to be the top, so you're always looking for nutrition and wellness ways to get there.
How many times do you work out a week? Also, how do you keep your hair looking good with how much you work out?
Well, that's a complicated question! Working out is my whole life. I even have to decompress from working out. Whether it's having a week off, I'm (almost) brainwashed and wired for workouts. So we're talking five or six days a week. So when we're playing Wimbledon, it's like three weeks in a row without a break. (Of course) That means you've won your match!
For the hair, you have to 'Fake it, till you make it!' I don't have a secret formula, I'm sorry!
When you're on the road, how do you eat right and stay healthy? You obviously don't have the time to eat right and prepare your food, what do you do to stay nutritious when you're traveling, on the road and on the tour?
On the road, it's hard if you aren't prepared. I like to try and have my meals ready for when I'm on the plane and traveling, things like that because at the airport there are no healthy food options. It's very difficult. So I think the best thing is to be prepared and have a game-plan. That's what I try to do. I have help with my food (from trainer Samantha Monus) that kind of thing. Also because my diet is more specialized (Venus was recently diagnosed with autoimmune disease) it's a little more difficult for me to get that I need. So a lot of it I'll bring on the road I'll bring my sprouts and wheatgrass with me, try to find sprouts on the road. If we're in exotic places we'll try to find other cool stuff that we can't find here. It's fun!
What do you eat before a match? Do you have fuel during, at all? Do you do sports drinks or gels or anything to keep your endurance up?
For me, I'm not a foodie, so for me, eating is a challenge. If I could live off fruit drinks and smoothies I would be an extremely happy person. Since I don't like food a lot, I will eat and eat enough before my matches so that I have enough energy. I usually eat enough to fuel myself for the entire match, but lately, I've been doing like, beat, and orange juice (drinks) on the court with electrolyte (drinks). That's my latest thing. I'll do the protein thing on the court, green juices, green waters on the court as well.
That's my routine. Because I don't eat a lot, it's hard.
Do you have a heavy meal before a match?
I'll have pasta, rice, those kinds of things. I like to have something heavy, just because in a long match if you run out of gas you stop being prepared. You try to be prepared all the time.
You said you have a specialized diet, can you just expand on that?
Recently I was diagnosed with autoimmune disease and so there are a lot of things I need to not have a lot of, including sugar and to reduce the amount of meat I eat. I've gone heavy on raw vegetables and things like that.
It's a lot more specialized for me now. It's hard for me–especially at hotels—for me to find the things I need to make me feel good.
Can you break down the amount of meals you eat on a competition day and then on a non-competition day as well?
A non-competition day that's like a day off, so if I'm not doing anything I'll just have green juice in the morning, a wheatgrass shot with ginger, protein shake, various things. Sometimes I'll just take whatever (fruits/vegetables) is left and I'll throw it in a blender with protein so I don't waste anything.
For me, that's enough. Sometimes I'll eat heavy in the afternoon but then won't eat much for dinner. Like I said, I'm a light eater. Definitely, on a practice day or competition day, I'll eat a lot more.
What do you plan to do when you retire and how did you get involved with buying franchising Jamba Juices?
I always wanted to pursue my interest off the court my whole career. That's what I was taught as a young person is not to just be an athlete because as an athlete it's who you are and what you do all day before you can remember, so once it is all over it can be very overwhelming. Thankfully I have been able to get into other things off the court and Jamba Juice has been one of them. It's a blessing actually. It's been exciting to own stores and see them grow as well as see people make healthy choices. It's been great. Also, I have EleVen and V*Starr Interior Design. I just love arts in general.
Are you integral at all in running the shops?
Yes, and my sister Lyn is here as well and she knows everything there is to know about running a Jamba Juice. It's extremely helpful. It's also great to have a great team around you. It's all about the team and not the one person. Family is also a great team.
To learn more about Jamba Juice and their live fruitfully initiatives visit www.JambaJuice.com.
Tags Fitness FiTrends Jamba Juice Jamba Juice Fitness Jamba Juice FiTrends Tennis Venus Williams Venus Williams Jamba Juice