Who knows what goes on in the mind of a former Disney kid, but what is clear is the majority of them meet adulthood in a raunchy way. A few months ago Miley Cyrus was wearing unicorn onesies, twerking, and shaking her rump all over the place. Since making her twerking debut Miley has answered the call to take it all off.
READ: Disney Stars Gone Wild: Miley Cyrus Twerking And Vanessa Hudgens Booty Poppin [Video]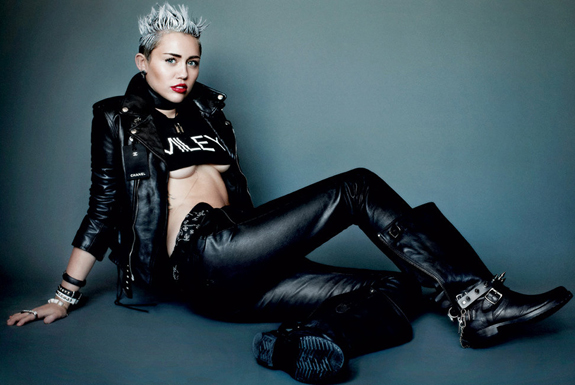 Miley isn't even legal (she's only 20) and she has already stripped down for the world to see. Covering not one but three issues of V Magazine, Miley decided to show a whole lot of skin during the photo shoot shot by famed photographer Mario Testino. One photo shows Miley flashing her backside and in another photo for the spread she cuffs one of her boobs.
VIDEO: Miley Cyrus – V Magazine Photoshoot – Behind the Scenes

[jwplayer mediaid="17753″]
The cover story is appropriately called 'The Emancipation of Miley.' During her interview conversation with Pharrell Williams she says of her emancipation, "I'm going to change, I'm going to be different, I'm going to do what I want to do. I chopped my hair and bought a pair of Docs and never looked back."
Check out the photos below and let us know what you think of the emancipated Miley. Is she a keeper?
Tags Miley Miley Cyrus Miley Cyrus Boobs Miley Cyrus Photos Miley Cyrus Pictures Miley Naked NSFW Pharrell Williams V Magazine