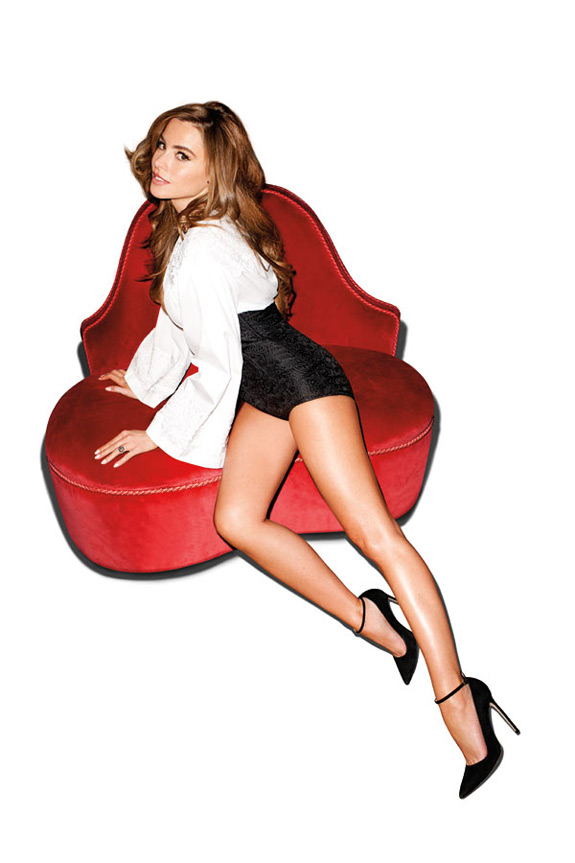 The Bombshell and ultimate modern woman known as Sofia Vergara is gracing the August issue of Harper's Bazaar. Photographed by famed photographer Terry Richardson, Sofia talks to Harper's Bazaar about freezing her eggs, cellulite cures, how she spends her $19 million per year earnings, and lipstick.
EXCERPTS
Unlike a lot of actresses, Vergara doesn't aspire to win an Oscar or a Tony. She does not long to showcase her emotional range by playing a cancer patient or a prison inmate. Indeed, the fact that her "15 minutes" has arrived as a result of her acting is a source of endless amusement to her. Raised in a prosperous family in Barranquilla, Colombia, she says, "I never thought I could act, or acting was for me. I've never been artistic. I always knew I was funny; I was the class clown, but I never thought to make money out of it or to be professional."
What happened, basically, was this: Somebody got an eyeful of Vergara on the beach in a G-string when she was 17 and cast her in a Pepsi commercial (bikini, hot sand, lots of jumping) that became a national sensation. She didn't take it too seriously—instead, she married her high school sweetheart at age 18, gave birth to her son, Manolo, and went to dental school for three years. However, the TV offers kept on coming, and the marriage fizzled out, and by her mid-20s Vergara had become a hugely popular personality in Latin America, hosting shows as her hilarious, sassy, sexpot self.
But it wasn't until Modern Family aired in 2009 that Vergara became a worldwide phenomenon. "Even after the first episode, it was insane. People came up to me everywhere—little girls, grandmothers, everybody."
What Modern Family's creators understood was that Vergara's greatest gift is being Vergara; they wrote the character of Gloria specifically for her, down to the son named Manny and the fabulously mangled English. And while Vergara is not quite as high-pitched and tempestuous as Gloria, the similarities are undeniable. "I don't think there's ever going to be a better part for me," she says. "But I do think—and my son and boyfriend agree with me—that I could play a crazy psychopath. I'm not joking."
Read the full write up and see more of Sofia Vergara quotes on being a sex symbol and career at HarpersBazaar.com.
VIDEO: Sofia Vergara Eats $1K Gold Sundae at Serendipity | Harper's Bazaar

[jwplayer mediaid="18832″]