Year after year, ESPN The Magazine uncovers the best athletes for their annual "Body Issue." Throughout the years we have seen some incredible bodies on display from your favorite athletes from a variety of sports including NFL's Colin Kaepernick, NBA's Kenneth Faried, WNBA's Candace Parker, and UFC's Ronda Rousey. Of course there was the unforgettable year when Serena Williams went commando and the year ESPN The Magazine clearly forgot a major body part of NBA star Amar'e Stoudemire. With the sixth Body Issue hitting newsstands it is a wait and see on which photo would be the most talked about. Right now we put our money on Prince Fielder's shameless reveal. We will let you be the judge, but hopefully you will agree the 2014 issue did not disappoint.
Arizona Cardinals WR Larry Fitzgerald

My hair is a silent tribute to my mom. She passed away 11 years ago from breast cancer. She was always fond of my hair when I grew it out in high school. Every day I wake up in the morning, I can say, "Mom, I'm going to go out there and attack the day to the best of my ability." Her voice is still on my voice mail. Her [driver's] license is always with me — I keep it close at all times.
I've gotten [my hair] pulled a couple of times, but nothing intentional. I try not to let anyone catch me from behind.
VIDEO: ESPN The Magazine 2014 Body Issue: Larry Fitzgerald

VIDEO: ESPN The Magazine 2014 Body Issue: Coco Ho

Oklahoma City Thunder Forward/Center Serge Ibaka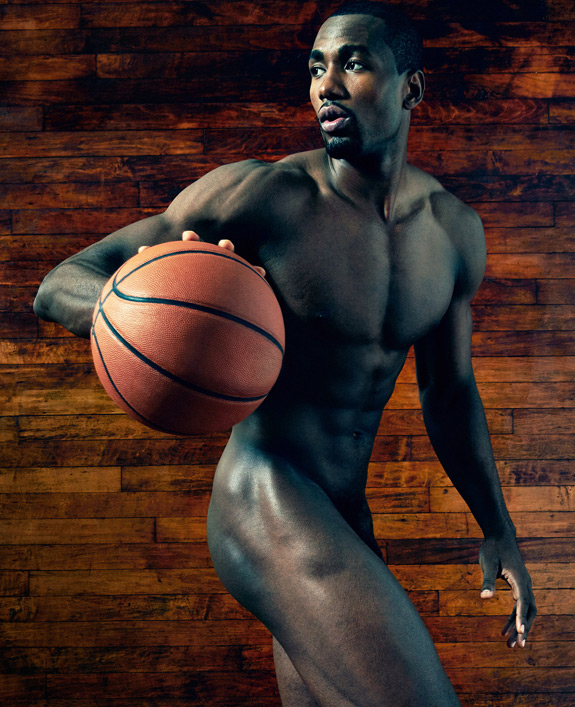 "Serge Ibaka looks like a Greek God" ~ Tony Kornheiser (ESPN's PTI)
I remember my first moment playing basketball. It was in the Congo. I think I was like 7 or 8. My mom and dad played basketball too, so my dad was always asking me to come to see him play. So one day one of the guys who was playing with my dad, he said, "Hey, let me teach you something." So he took an empty bottle of water and was using it as a ball and he said, "OK, take one step and do two and then jump — that's all it is." I went back home, and all night I was doing it. All night. That's all I could think about. Even in the bathroom, I'm brushing my teeth and I start doing this. That's where everything started.
I wish I had more body parts that I could work out. If I had my way, I'd be in the gym all day. I love to lift. When I don't have basketball practice, I'll be in a gym for 2.5 hours – 30 minutes abs, 2 hours lifting.
It's much easier to get a six-pack if you're short. [Tall people] have long, long muscles, so to get a six-pack to come out is hard. I've been working on my six-pack for 10 years now. It's tough.
I had a poster of Kevin Garnett hanging in my room. He was one of my inspirations when I was young. I was at my friend's house — he had a lot of money, so sometimes I'd go to his place to watch some NBA action. I remember the first time I saw Kevin Garnett, I just felt something in my body: "This feels like me." I loved his spirit and his passion. I just felt like it was me out there playing on the court.
READ: ESPN The Magazine: Body Issue 2013 [Photos and Video]
I started snowboarding in Lake Tahoe when I was 9. My sisters were already on the competitive team, so I kind of just followed their footsteps and started doing small events. Then I started making a little bit of money from the competitions, and I was really stoked because I was always working as a young kid selling golf balls or working for my mom mowing lawns. So when I was a teenager and I started making money in snowboarding, I was like, "Whoa, I didn't even know this was really something you can do." It was kind of like a win-win situation.
I love slacklining. I got into it probably two or three years ago. It's like tight-rope walking. Some people do it at crazy heights — did you see that one in Yosemite? — so it's like that but at earth level, so it's OK. I remember the first time I tried I couldn't even stand on it. And that's what kind of drove me to buy one and practice. It's so cool how capable we are of anything we really work on.
VIDEO: ESPN The Magazine 2014 Body Issue: Jamie Anderson

Texas Rangers First Baseman Prince Fielder

The gummy bears tattoo was my idea. It's my son's favorite candy. The sketch was my other son's idea. It's a self-portrait of himself. I just showed the artist his sketch and had him tattoo it on my forearm. It looks like a stick person with big hair. It's pretty funny.
I wish I would have eaten right earlier in my career. My thing was, especially during the season, I would just lift weights and eat — play for the tie. I'd eat a big meal, then do cardio to try to make it even. Instead of eating right and working smart, I was working harder and making myself more tired.
VIDEO: ESPN The Magazine 2014 Body Issue: Prince Fielder

READ: ESPN The Magazine: Body Issue 2012 [Photos and Video]
Take the jump over to ESPN The Magazine for more photos and follow The Mag on Twitter (@ESPNmag).
Tags Coco Ho ESPN Body Issue ESPN Magazine Body Issue ESPN Magazine Body Issue 2014 ESPN Magazine Nude Issue Larry Fitzgerald Nude Athletes Prince Fielder Serge Ibaka