Tis the season of wonder. From twinkling lights, to shiny packages and distinctive dishes, we love this time of year, yet these things are somehow lacking without an impeccable libation — one of the many full-flavored whiskeys that are perfect for gift giving. No worries, it's perfectly normal to give yourself a bottle while you gift your favorite people…you know, one for you, one for me, two for you, two for me. It is "happy" holidays after all.
We recently attended a whiskey tasting at Jimmy Kimmel Live, where we sampled cocktails from L.A.'s top mixologists. These crafted cocktails included brands like Bulleit, Crown Royal, George Dickel and more. And to go with these cocktails, some tempting and tasty barbecue prepared by renowned chef Adam Perry Lang. Needless to say, it was a very merry experience, so we couldn't help but think why not give the gift of whisk(e)y this season.
Whiskey has long been a spirit with many admirers, from high society, to suburbia and backwoods hideaways. Each brand has its distinct reputation and specific undertones, but they all offer an unmistakable flavor that comes from the strict aging process. Here are just a few to consider as you finalize your holiday gift giving and imbibing plans:
Bulleit Bourbon 10 year


Bulleit is often described as crisp and clean. Aged in charred American white oak, Bulleit provides a rich, deep, incredibly smooth sipping experience. The oaky great aroma and rich flavor has notes of vanilla, dried fruit, and a long, smoky finish. Two-thirds corn and one-third rye, it's great to mix, but perfectly oaky and smooth to enjoy on its own…a highly regarded option among bourbon lovers.
I.W. Harper 15 Year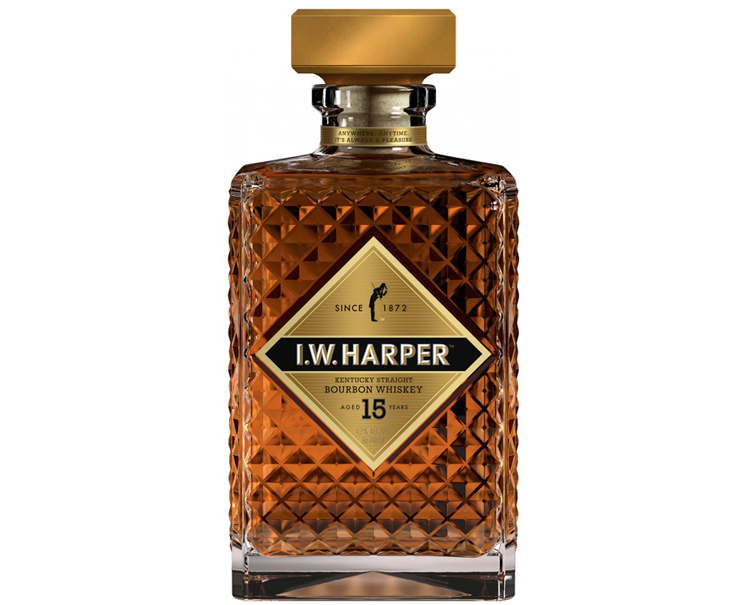 Rich in heritage and tradition, this premium quality whiskey celebrates the brand's homecoming to America. First produced in Kentucky in 1872, the award-winning brand left the US market in the '80s to protect the integrity of the exported product in the Japanese market and did not return until 2015. With notes of oak, raisin, caramel, spice and vanilla, I.W. HARPER 15-Year-Old Kentucky Straight Bourbon Whiskey is 86 proof and perfect for enjoying on the rocks or neat. With a time-tested history, this iconic whiskey survived prohibition and thrives still today.
Crown Royal Northern Harvest Rye


While you may be familiar with the name Crown Royal, it's time to meet Crown's newest gem, Crown Royal Northern Harvest Rye. Named "Whiskey of the Year" by Jim Murray's in his new book The Whiskey Bible, this newer entry to the market has quickly become a hit. It's Crown's first legitimate rye in 75 years. Described as tingly with just the right sweetness and hints of mint as well as cedar, this Canadian Whiskey is an admirable choice even if you don't normally drink Crown Royal. The brand's first ever blended, Northern Harvest Rye embodies a smooth and spicy flavor profile that can be served as a traditional cocktail, or enjoyed neat or on the rocks.
George Dickel Rye


George Dickel Rye is a straight rye small-batch whisky in the style that made George famous. With 95% rye and 5% malted barley, George Dickel Rye is finished using a signature process, which includes "chill charcoal mellowing" to give this rye it's oak, caramel, vanilla and cinnamon notes. Made from the finest rye available, it's easy-to-drink, softer than some, but not flat, with a spicy smooth finish.
Blade and Bow Straight


Each bottle contains some of the last bourbon ever produced at Stitzel-Weller Distillery before it shut its doors in in the early '90s. Made using the unique "Solera System Aging" process, new bourbon is mingled with aged whiskey to preserve the original stock from Stitzel-Weller. Named after the two parts of the skeleton key, the blade shaft and bow handle, there are hints of apricot, caramel, pear, figs and oak, evidence of the true craftsmanship of its passionate distillers. Aged in new charred American white oak barrels, the finish has notes of charred oak and warm winter spices with a subtle aroma of fresh fruit. Blade and Bow Kentucky Straight Bourbon recently won best "Straight Bourbon in America" at the San Francisco World Spirits Awards.
It's the time of year when it's okay to indulge a little, so indulge with style. Whether you're giving to friends, family and even yourself, give the gift of whiskey and delicious cocktails…for a little something special during the holidays and well into 2016!
Tags Blade and Bow George Dickel Whisky I.w. Harper Royal Northern Harvest Rye Whiskey Whisky