"Sacrifice and believe in yourself! Challenge yourself to always be the best." ~ Warrick Dunn
Many of us face adversity, but probably not to the extent of losing our mom when we were 18 years old at the hands of a criminal with a gun. Then to rise above it all, reaching top success with two NFL teams as well as personal endeavors to benefit others through charities, foundations and special projects. It takes determination and commitment that's truly difficult to find, but it's exactly what Warrick Dunn has done.
A former Tampa Bay Buccaneer and Atlanta Falcon (a team for which he's now part owner), Warrick talks with Tam-Star in this revealing interview about his good friend Derrick Brooks (whose life very closely mirrored his own both on and off the field), his special connection with NBA player Charlie Ward, his picks for top running backs of all time, and what inspired him to write his book, Running for My Life.
He thinks you'd be surprised to know he's laid back, chill and funny, but we know you'll also be impressed to know he wasn't just a standout on the football field, but he's continuing to score big points teaming up with the Crown Royal Heroes Project, as well as his many big-hearted efforts to help others across the country.
Maybe not as off-the-wall as some of our other sports figure interviews, but it's one that's insightful and inspirational, especially in this season of giving.
Tam-Star: Life after the NFL. How did you handle the transition and what is it like being a retired football player?
Warrick: Life after football has been pretty good. I've tried to stay busy and I've continued to just work. I have speaking engagements. I'm still doing foundation stuff. I became a limited partner with the Atlanta Falcons, so I'm a part owner of that team. I'm working on my MBA right now at Emory University in Atlanta.
Tam-Star: I know you've worked with Athletes for Hope and you have your own charity, Homes for the Holidays. Why is it important to you to be involved in all these charities?
Warrick: When I lost my mom I was 18 years old. The city of Baton Rouge really stepped up and embraced my family and myself. When someone shows you what it means to give back I just think it's ingrained in you after a while because you have experience from that.
I was able to start a program in 1997 when I was a rookie with the Tampa Bay Buccaneers. The head coach at that time was Tony Dungy and he challenged his players to get involved in the community — if you're gonna live in this community you want to get involved and give back. I had to figure out what I wanted to do and I think that just really drove me to do something I can relate to and understand.
I started Homes for the Holidays, and in 2002 I started and worked on Family Foundation to assist single parents in becoming first time homeowners. We help with their down payment, but also with food, furniture, linens, garden tools, etc. We've been able to do this for the last 15 years in Tampa, Atlanta, Baton Rouge and Tallahassee consistently. We're in the process of expanding to all NFL markets.
I've been driven because my mom's dream was to own her own home and she never had that opportunity. So I've been able to live out my mom's dream through other single parents in these communities.
I was approached years ago about being part of Athletes for Hope, an organization that wanted to talk about philanthropy, and give other athletes, celebrities or just the everyday person a way to be involved with giving back and getting involved in the community. The organization has 13 founding members – Lance Armstrong, Andre Agassi, Jeff Gordon, all these high profile individuals to get involved for one common cause. It's just been a real success. Similar to what we're doing with Crown Royal right now with the Heroes Project,
Tam-Star: Let's talk about the "Crown Royal Heroes Project" that you recently became involved with. How did that come about?
Warrick: I think there's so much synergy between Crown Royal and myself because of whom they're recognizing, what they stand for, and what they mean. I've had a great opportunity to partner up with Crown Royal to talk about the Crown Royal Heroes Project program they have honoring military personnel, firefighters, police officers, community heroes…recognizing those guys and saying thank you. To get people involved, people are coming out to Cowboys Stadium to watch a free concert with country music star Rodney Atkins…to come out and be a part of that, stuff bags, and send stuff to troops overseas saying hey, thank you for sacrificing your life and your time to be away from your families.
We just want people to come out and help stuff purple Crown Royal bags with snacks and treats for troops to send overseas. Crown Royal is going to donate $10 for every Crown Royal bag
that is stuffed to the Texas Wildlife Relief Fund in Texas. I think it's a great opportunity for people to come out and not just support what I do; I'm thankful for that support, but definitely support Crown Royal for what they're trying to do which is recognize American heroes.
Tam-Star: What inspired you to write the book Running for My Life and why would you encourage people to read it?
Warrick: I thought that particular time was the best time in my life to write the book. I thought it was time to share my story and let people know that even though you have adversity in your life you can overcome it if you stay faithful, if you stay believing and you stay on course. I think the book is great for young men. I think it's great for all people, but definitely young men. I'm the oldest of six and when you're the head of the household there's so much responsibility. Many times we get sidetracked instead of staying on course.
I think it's a really good book that shows you can be a man and be vulnerable at the same time, and there's nothing wrong with that. We all have a soft side to us. It's one of those books that I think is fitting for today's young men…all the struggles that we have just being men in this country, providing for our families and knowing you can go through things and overcome it.
It's a book that I'm proud of. The first chapter is where I go and sit down with the guy who shot and killed my mom, at Angola prison in Louisiana. The first chapter really captures all the emotion and tension. The rest of the book really just talks about the struggles and sacrifices that I've had, the ups and downs throughout my career. When you're trying to be the head of the household, you're the oldest of six, playing pro football, also navigating your own life, the struggles in relationships and so forth, I think it's very compelling to share that.
Tam-Star: As someone who has been considered small by NFL standards can you offer our readers a few tips about standing tall and really overcoming challenges that they may face.
Warrick: It's about sacrifice. It's about believing in yourself and having realistic goals. You have to have goals that are realistic, but you have to believe in yourself and make sacrifices. Because I wasn't the biggest guy I sacrificed hanging out. I mean I trained, I was doing it not just two days, but three days in the summertime in Louisiana trying to make sure my body was in the best physical shape to play the game of football. I was gonna show whoever it was that I was the best player on that field. I challenged myself to always be the best. It took hard work and a lot of sacrifice.
Sometimes people think things come easy and they don't. You have to work for them and you have to earn people's respect. I think over the years because I've worked so hard I've actually earned individuals' respect with not just the way I played the game, but also how I carried myself.
Tam-Star: You spent an equal amount of time playing for Tampa as well as the Falcons. I know that you are a minority owner for the Atlanta Falcons, but truthfully I want to know if you were elected into the Hall of Fame would you go in as a Buc or as a Falcon?
Warrick: Truthfully I would go in as an Atlanta Falcon. Even though I started my career in Tampa the best years of my football life were in Atlanta. I grew, I matured, the city embraced me, and yeah, I was embraced in Tampa, but you know, my life changed a lot and I was a better football player when I was in Atlanta.
Tam-Star: Speaking of the Falcons, what are some of your challenges being a minority owner?
Warrick: One of the reasons that I went back to school to get my MBA was because I wanted people to respect me as a businessman not as an ex NFL player. When I first started going to the owner's meetings and sitting in the rooms with all these guys who earn so much money, I think they respected me as a football player, not as a businessman. So, I wanted to go back to school and learn business terms, pick up my knowledge of business and learn business acumen so that I can be a better overall person. I don't play football anymore so I'm onto the next phase of my life. For me the challenge is respect. I want to be respected.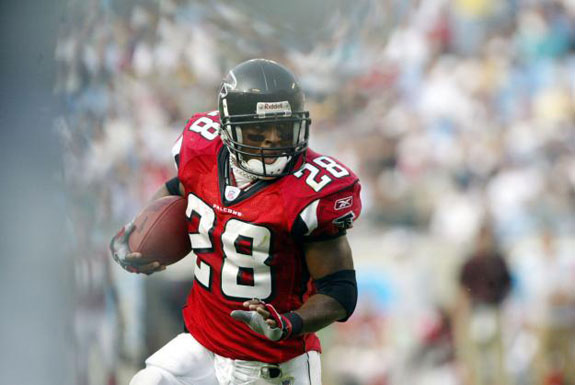 Tam-Star: Name your top three running backs of all time.
Warrick: This is probably too easy for me, but Barry Sanders by far the greatest running back ever to play. I am a Walter Payton fan, this dude was amazing. Gale Sayers, he was electrifying. And my childhood idol, Tony Dorsett. I patterned my game after him, that's who I looked up to.
Tam-Star: Let's talk about Walter Payton, your connection to Derrick Brooks and going to Florida State. You and Derrick share a lot in common. Both of you went to Florida State, played for the Bucs, worked as TV analysts for ESPN and were presented the Walter Payton NFL Man of the Year Award. How has it been sharing all those experiences with Derrick?
Warrick: It's been kind of amazing because I don't think people realize that two guys came from the same school, played on the same team together for six years and have won a lot of the same rewards. We've experienced the same things working on ESPN and so forth. It's been a good opportunity to really be around him and learn from him. Because he's older I've tried to follow his lead because he set a really good example…being a pro player, teaching me and really watching him be a pro, but also the things that he stands for, how he wants to change his community.
All that stuff has really rubbed off on me and when you follow someone you try to make it your own or make it better. I get advice from him. I'm lucky to have someone that I can always call and look up to for advice. It's been a special relationship.
Tam-Star: Most people don't realize Charlie Ward was a big brother figure for you when you were at FSU. How is your relationship with him now? Are you guys still in touch and are you close?
Warrick: Yes, we are close. We continue to talk. We talk all the time. He's a high school football coach in Houston, TX and he's just one of those guys. He has always been there for me. He has always supported me. He has always been the same person throughout winning the Heisman and playing pro basketball for 12 years. You can always count on him. He's just a tremendous person.
When you go out into the community you want to change it, make it better. He's one of those guys. I'm just honored to know him and thank God that he was my roommate my freshman year of college because he probably was the one person that I could really rely on and talk to in the toughest times of my life after losing my mom.
Tam-Star: What would people be surprised to know about Warrick Dunn?
Warrick: I am laid back, chill, funny, I like to have a good time, but I am responsible.
Tags Charity Work Crown Royal Football FSU NFL Running Back Running For My Life Tampa Bay Warrick Dunn