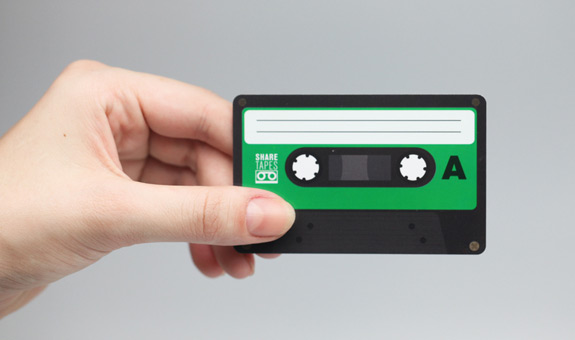 The way we share music has consistently evolved over the last couple of years thanks to technology. From the tape cassette to the QR code, times have changed. Platforms like Spotify, YouTube, and 8tracks have redefined how we listen to music on the web and thanks to Sharetapes you can use these platforms to create personal playlists to save and simply tap with NFC chips (if you have a recent Android, Windows or Blackberry device), or scan using any QR code reader app (on all Smartphones, including iPhones).
How do Sharetapes work?
Get yourself a fresh set of blank Sharetapes from Sharetapes.com
Create a playlist in Spotify, Youtube, 8tracks or your choice of online media content, then add it to a tape by clicking record at Sharetapes.com
Give the Sharetape to someone who you believe may enjoy the linked content (they do this bit) Play the Sharetape by tapping with NFC, scanning the QR code or hit play at Sharetapes.com
Will I date myself if I say that I am old enough to remember tape cassettes? Yikes! Some of you will never know what it was like before mp3's and the USB flash drive, but there was a time when people relied on the awful tape cassette for their listening pleasure.  For those of you that like to keep up with technology, Sharetapes seems to be a cool new school tool while hanging on to a bit of nostalgia.  Available via Sharetapes.com. Retail $6.99 (5-pack).
Unplugged via Uncrate
Tags MP3 Music QR Code Reader Music Sharing QR Codes ShareTapes Spotify Tape Cassettes YouTube