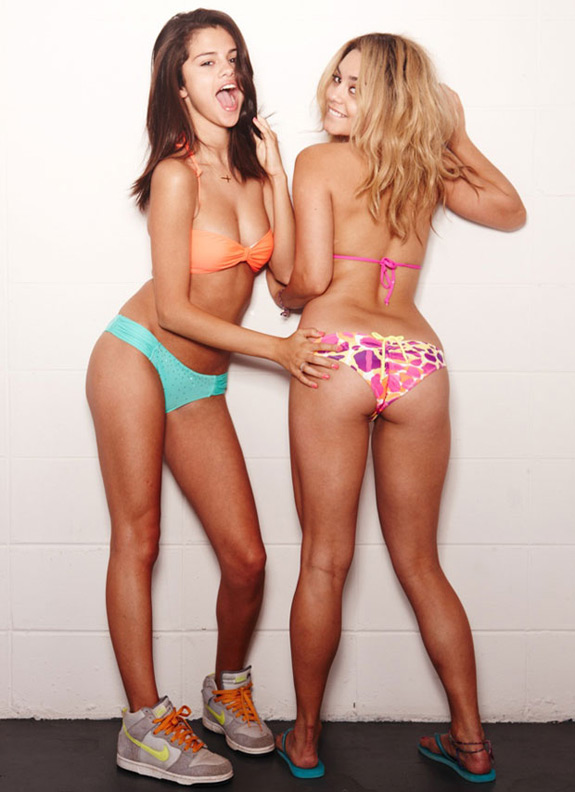 It's been quite the week for former Disney stars Miley Cirus, Selena Gomez, and Vanessa Hudgens. Now 20 and 24, Selena Gomez and her BFF Vanessa Hudgens have taken their efforts to shed their squeaky clean tween idol image into overdrive.
As if heavy drinking, graphic sex scenes, and sporting bikinis throughout their new movie "Spring Breakers" wasn't enough, the pair have been getting extra raunchy and dirty on their press tour. During an appearance on The Tonight Show with Jay Leno earlier this week, Vanessa Hudgens decided to show the world how she makes her booty pop.
VIDEO: Vanessa Hudgens' Booty Poppin' Dance – The Tonight Show with Jay Leno

[jwplayer mediaid="17310″]
While making an appearance on Chelsea Lately, the duo discussed snorting cocaine and having an on screen threesome with co-star James Franco.
VIDEO: Chelsea Lately: Selena Gomez & Vanessa Hudgens

Not to be outdone by Selena and Vanessa's transformation, Miley Cyrus decided to get in on the action this week by releasing a video of herself in a rather strange outfit twerking. Miley got down and gritty in a unicorn onesie while shaking her rump to J Dash's track Wop.
Miley told radio host Ryan Seacrest, "I can't believe how many people think I'm good at twerking—which is dope—like my life goal has been accomplished… I thought it was so weird, but I'm glad that everyone understands my humour."
VIDEO: Miley Cyrus "WOP" Facebook Video! Twerking

[jwplayer mediaid="17311″]
As Miley said, "You can't really explain [twerking]… It's something that comes naturally… It's a lot of booty action."
Tags Chelsea Handler Chelsea Lately Disney Stars Jay Leno Miley Cyrus Selena Gomez Spring Breakers Tonight Show Twerking Vanessa Hudgens