Bodysuits and Beyoncé! Beyoncé showed no shame as she kicked-off her Mrs. Carter Show World Tour in Belgrade, Serbia last night. Known for wearing some rather "interesting" stage costumes, Beyoncé may have worn her strangest outfit to date. Rocking a gold sequin-encrusted bodysuit which included a pair of fake breasts, the Beyoncé experience seemed to be in full effect.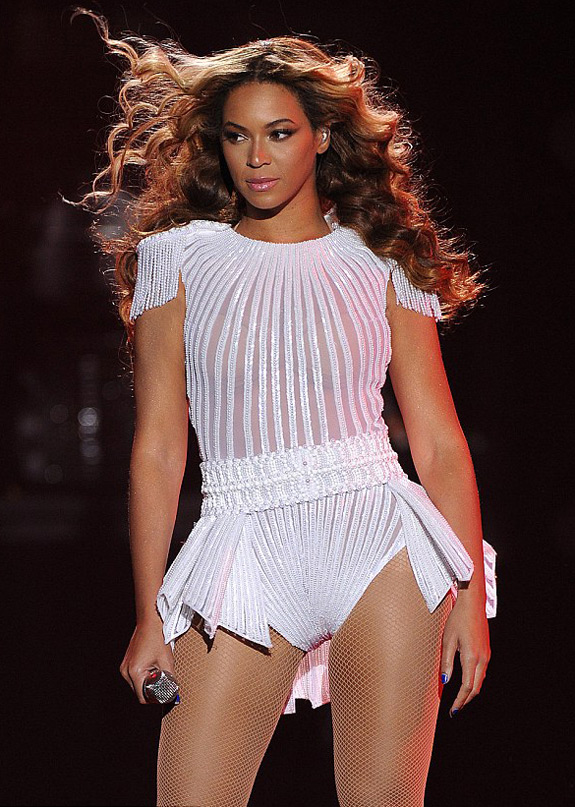 Beyoncé has always maintained a clean image, but with the introduction of her latest racy ensemble and the controversial lyrics in her song Bow Down all that may be changing. We met her alter ego "Sasha Fierce" when she released her third studio album "I Am… Sasha Fierce." Are we seeing a new Beyoncé with the Mrs. Carter Show World tour?
VIDEO: Beyoncé Singing End Of Time Live In Belgrade, Serbia

[jwplayer mediaid="17560″]
Years ago Beyoncé said she crafted her stage persona to give the best performances she can. "It's kind of like doing a movie. When you put on the wig and put on the clothes, you walk different… Usually when I hear the chords, when I put on my stilettos. Like the moment right before when you're nervous," she said. "Then Sasha Fierce appears, and my posture and the way I speak and everything is different."
Many recording artists have been known to create alter egos and use stage or screen personas, but has there ever been an entertainer to give us multiple alter egos? Something is definitely going on with the "new" Beyoncé. Is she exploring yet another new identity or is she giving us the real Mrs. Carter with the unveiling of her racy bodysuit? What do you think?
VIDEO: Beyoncé Singing Crazy In Love Live In Belgrade, Serbia

[jwplayer mediaid="17561″]
Tags Beyonce Beyoncé Concert Beyonce Photos Beyoncé Tour Fake Breast Faux Boobs Faux Breast The Mrs. Carter Show World Tour