Maxim Magazine believes with "absolute certainty that before you lies the definitive list of the world's sexiest women." We say bull sh*t! Cough… The list was "supposedly" voted on by the fans. With so many questionable choices including Hoda Kotb at #79, Emma Watson at #19 (as if she is hot), Miley Cyrus in the top spot, and Manti Te's's fake girlfriend at 69, we aren't sure that Maxim's Hot 100 list is… real. What we do know is the list is refreshing. There are many familiar faces on their 2013 list, but what we appreciate the most is that they have introduced an entirely new corp of hotties.
Maxim's top 30 include:
#30 Hayden Panettiere
#29 Ronda Rousey
#28 Olivia Munn
#27 Danielle Fishel
#26 Demi Lovato
#25 Katrina Bowden
#24 Blake Lively
#23 Heather Graham
#22 Christina Hendricks
#21 Emma Stone
#20 Megan Fox
#19 Emma Watson
#18 Arianny Celeste
#17 Jessica Alba
#16 Olivia Wilde
#15 Scarlett Johansson
#14 Beyonce
#13 Taylor Swift
#12 Kate Beckinsale
#11 Katy Perry
#10 Elisha Cuthbert
#9 Vanessa Hudgens
#8 Kate Upton
#7 Ashley Tisdale
#6 Jennifer Love Hewitt
#5 Jennifer Lawrence
#4 Mila Kunis
#3 Rihanna
#2 Selena Gomez
#1 Miley Cyrus
After thoroughly reviewing their list we decided to narrow it down to our top 10 picks. Like with the Maxim Hot 100 list we included some well-known faces; however, we decided to mix it up and add a few new girls that have never been featured on Mankind Unplugged. Check out our list and let us know what you think. Did we pick some hot sexy chicks or what?
SEE OUR TOP 10
Honorary Hotness – Manti Te'o's Fake Girlfriend
She faked it! Need we say more?

10. Janina Gavankar
True Blood! She's the hottest shapeshifter we have ever seen.

9. Ashley Benson
Who doesn't like Pretty Little Liars and a girl who knows how to party hard like Spring Breakers?

READ: Top 10 Picks From FHM's 100 Sexiest Women In The World 2013
8. Kaley Cuoco
Kaley has been making a "Big Bang" for years. She once told Maxim, "I've always had a boyfriend, but I'm up for any sort of people hitting on me."

7. Mila Kunis
She made our list just because we know most guys think she's hot.

6. Brittney Palmer
She's one of three official UFC Octagon Girls to make our list.

5. Arianny Celeste
We said it before and we will say it again. Arianny will always make our top 10 list.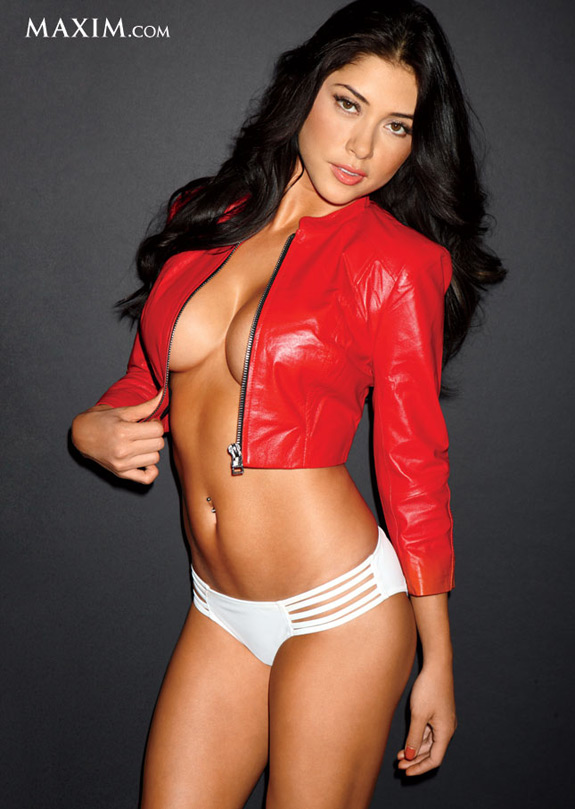 READ: See where we ranked Arianny Celeste on the FHM 100 Sexiest Women In The World 2013 list
4. Kenda Perez
We have crowned her the hottest UFC Octagon Girl.

3. Rihanna
She's a Good Girl Gone Bad, but let's face it she's still hot!

2. Bar Paly
Born in Russia and raised in Tel Aviv, Bar knows all about the Pain & Gain of looking sexy.

OUR #1 PICK
1. Nina Agdal
There is a reason the Sports Illustrated Swimsuit Issue "Rookie of the Year" has modeled for Frederick's of Hollywood and Victoria's Secret. If you have seen her scorching hot Carl's Jr. ad during Super Bowl XLVI you already know why she is our top pick.

Tags 2013 Maxim Hot 100 Hot 100 Maxim Maxim Hot 100 Maxim Magazine