Since launching in 2010, Mankind Unplugged has had a lot of unique opportunities to bring our readers the freshest takes from the worlds of lifestyle, music, fashion and more. While we have been awarded a lot of great opportunities throughout the years, few have been more exciting- or rewarding- than an invitation we were extended last week by famed auto manufacturer Scion. To celebrate their 10-year anniversary, the company invited us to a special media event held at the luxurious W Hotel in Hollywood to test-drive models from their limited edition 10 Series and the new 2014 tC.
To celebrate their 10th anniversary, Scion will launch the 2014 tC and a limited-production version of each vehicle in its lineup called Scion 10 Series, all of which premiered earlier this spring at the New York Auto Show, and will hit dealerships near you this June. The limited edition Scion 10 Series includes the xB, xD tC, iQ and the FR-S (our personal favorite, which we'll get to later). Incredibly, only 10,000 total models in the Scion 10 Series will be released in 2014, meaning that if you're planning on purchasing one, you better get to your dealership quickly.
If you are interested in the 10 Series, well, the limited edition models offer a number of unique features, which have never been seen on any Scion before. Specifically, each is equipped with a 6.1 inch LCD touchscreen for music and media display.
Speaking of that touchscreen and the special features of the Scion 10 Series, it leads perfectly into our experience at the Scion event last week. There, we had access to three exclusive presentations to better understand Scion as a company and what makes the 2014 models their best yet. Of the three presentations, the most extensive came via the "Scion Optimization" panel, in which the company detailed those previously mentioned new features on the latest models. The most fascinating of those features came via their audio settings. All cars are equipped with standard audio; however, they anticipate consumers will favor the cutting-edge premium audio options that are new to the 2014 models.
Photo Credit: Star Walker
For those wondering what those features include, they start with Scion's "BeSpoke" Audio System. BeSpoke has an iPhone app which allows consumers to consolidate all of their social media platforms (Facebook, Twitter, Yelp) into one place, and BeSpoke's "Aha Technology" allows Scion owners to do the same with music. Specifically, the Aha technology lets users sync their favorite music and radio stations into one easy to use application via the LCD touchscreen on their dash. Meaning that Scion owners can have easy access to all their favorite jams, without having to fidget with the radio dial while driving.
In addition to the Scion Optimization presentation, Mankind Unplugged had access to two additional panel discussions. The first was what Scion called their "Retail Difference," a detailed explanation of what makes Scion one of the most customer-friendly brands on the entire car market. We also learned about Scion's unique "Pure Pricing" initiative, which has been in place for years and will continue with the 2014 models.
Curious about "Pure Pricing?" Well, it's essentially what it sounds like. Scion guarantees that the price you see in advertisements and promotions is exactly what you'll pay when you walk in the door. In a practical sense what Pure Pricing really means is that Scion sells their cars to dealerships at a certain price, with the explicit understanding that the dealer will then sell them to the consumer at one, flat price as well.
The reason Scion implemented the Pure Pricing platform is simple: After consulting with consumers, the company realized that car buyers wanted less hassle and less negotiation when they showed up to purchase cars at the dealership. "Pure Pricing" allows for exactly that, and features a "Monospec" philosophy as well, which allows for buyers to customize their ride with hundreds of different individualized features, to go along with all the high-level standard equipment that comes with the cars.
Of all the presentations the most interesting may have been the third and final one, titled "Scion & The Arts" which detailed the company's lifestyle and marketing strategies. In a lot of ways the concept behind the presentation makes sense, since when you purchase a Scion you're not just getting a car, but a "lifestyle" as well. That's because since opening its doors in 2003, Scion has made it their mission to target a younger group of consumers; the average Scion owner is just 37-years-old.
Over the last decade, Scion has undoubtedly practiced what they preached. They've always focused their efforts on the arts and the creative community, first by targeting the hip hop and graffiti cultures, before moving to the electronic, fine arts, metal, dubstep, and later the dance demographics. Most recently Scion has shifted their focus to entrepreneurs and the owners of small business.
Photo Credit: Star Walker – Steve Aoki's Custom Scion
To further our understanding of lifestyle marketing, we got a chance to meet and mingle with one Scion's brand ambassadors, Levi Maestro, at one of Scion's A/V Installation galleries, an event designed to help identify and nurture up-and-coming talent. Maestro has made a name for himself through the years with his online web show "Maestro Knows," and as an avid skateboarder, he fits Scion's lifestyle brand to a tee. Beyond Maestro, Scion also is coordinating future projects with some of the top names in music including A$AP Rocky, Trinidad James, SSUR, Sage Vaughn. Scion also recently designed a customized car for a favorite of Mankind Unplugged, Steve Aoki.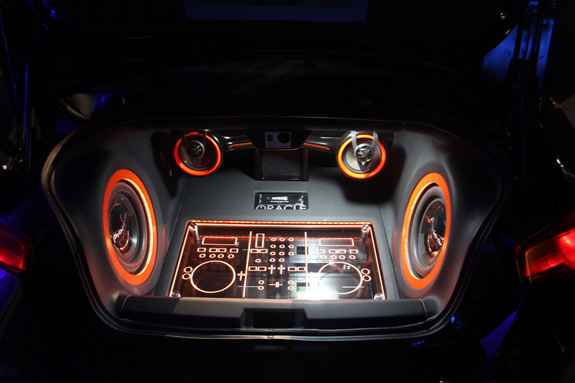 Photo Credit: Star Walker – Steve Aoki's Custom Scion
Finally, Mankind Unplugged would be remiss if we didn't mention our personal favorite experience of the event, test-driving the FR-S model. While consumers are understandably excited about all the models (especially the tC) there was something about the FR-S that got our personal engine revved up. The FR-S recently won SEMA's "Hottest Sport Compact" award and in 2012 Kelley Blue Book labeled the FR-S "The Coolest Car Under $25,000."
Frankly, it's not hard to see why. After test-driving both the manual and automatic transmission models, we can assure you that while the FR-S may have all the amenities of a luxury car, it backs it up with the power found in the best sports car on the road. Simply put, our experience with Scion was fun-filled, and the brand along with its models come highly recommended by Mankind Unplugged.
For more details on Scion visit Scion.com. To learn more about Scion's audio visual check out ScionAV.com.
Tags fr-s iQ scion scion 10 scion 10 series scion fr-s tc scion iq scion tc scion xb scion xd xb xd