With Valentine's Day around the corner, couples are planning to share some special time together. Aside from the usual tokens of love like stuffed animals, roses and chocolate-covered strawberries, the best boyfriends and husbands are masters at setting the romantic mood. This means whisking your special someone for a fancy date night with lots of wining and dining. It's the perfect time to try the brand-new Truvée wines, which come from the heart of California Wine Country with an amazing story.
In an unexpected twist with long-lost family reunited in unusual circumstances, this wine is a wonderful reminder of what relationships are all about. Truvée is the brainchild of the McBride Sisters, half-siblings who share a father but grew up separately – in different countries. They did not meet each other until young adulthood (ages 16 and 25). While one was raised near the vintages of California, the other sister was surrounded in a world-class wine region in New Zealand. Though neither of them knew it, they were destined to meet and create their masterpiece together.
If they learned a lot about wine apart, just imagine what happened when they teamed up and decided to concoct their very own. In addition to Truvée, The McBride Sisters have another wine line – eco.love. These grapes are actually grown and harvested at vineyards halfway around the world in New Zealand vineyards. The Truvée, however, comes from the sustainable land on California's Central Coast from Chalone and Edna Valley to Monterey County.
So what does the American label "Truvée" really mean? According to one of the McBride Sisters, "Truvée is derived from the French verb 'to find.' We found each other, now we want people to find a wine that matters to them," Andréa shared. The sentiment makes sense. What else brings people together for quality time quite like an amazing bottle of wine? Whether you go out for a fun date night or stay home and share a quiet evening together, the corks come off and the wine and conversations start flowing.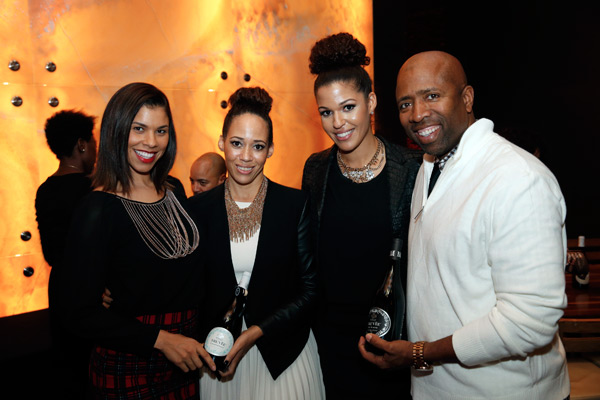 It's an unlikely story of sisters who grow up continents apart and reunite over their mutual love for wine. But there's more than just the strange history of the McBride Sisters. These wines also boast delicious flavors. Sample the satisfying taste of Truvée's white or red blend, both newly launched this year, and you'll know what we're talking about. We were fortunate to wet our palettes with Truvée and hear the sisters share their amazing story firsthand over an intimate and celebrity-filled dinner. We were truly inspired.
The red expertly blends Grenache, Syrah, Merlot and Zinfadel, infused with rich fruity flavors and finished with an unexpected hint of caramel and cocoa. Those with an expert palate are sure to detect an oaky influence in the smooth, silky texture. The white wine, a crisp, citrus Chardonnay, tantalizes the taste buds with a splash of stone fruits and a tropical twist.
Individually and teamed up together, the McBride Sisters know exactly what they are doing. And you can taste that old-world experience and enthusiasm for their craft in every affordable bottle. Truvée is now available nationwide for $15.99 for a 750 mL bottle. In the spirit of the McBride Sisters, here's your chance to connect with loved ones in your life while you sip, savor, share stories, and find the connections you've been looking for.