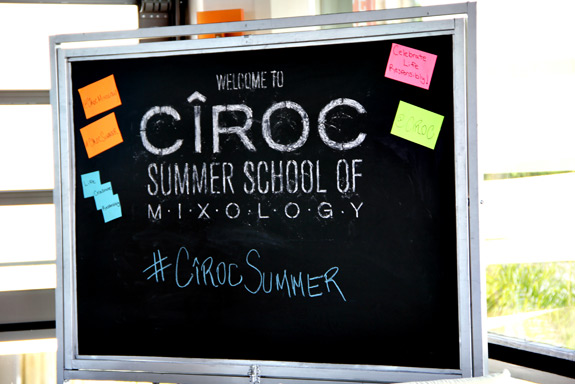 Photo Credit: Star Walker
Summer is "unofficially" here and what better way to celebrate and keep cool than with a tasty cocktail. Ahh, the sips of summer…can you feel your taste buds perk up at the mere thought of some perfect summer drink recipes? Well, we've got them, courtesy of Cîroc Ultra-Premium Vodka.
Just in time for Memorial Day, we were invited by Cîroc to join their certified master mixologist Billy Ray at Mixology Summer School to learn how to make several refreshing cocktails that are perfect for hot and steamy summer days and nights. Believe me, Cîroc Summer School is nothing like the summer school some of us remember…that was chemistry, this is cocktails!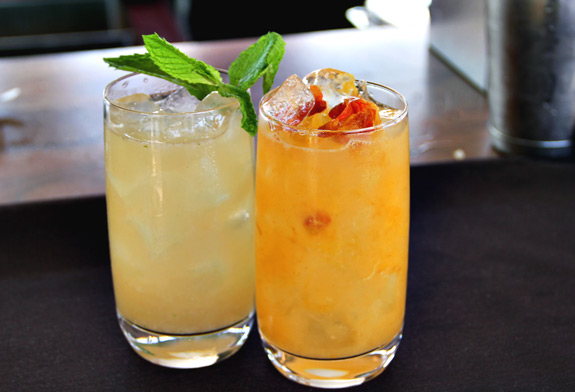 Photo Credit: Star Walker
At Mixology 101, Cîroc's official summer school bar, we got step-by-step instructions, as well as helpful insight into the best techniques for concocting A+ Cîroc cocktails. We covered the basic skills, including building, measuring, shaking, stirring, blending and muddling. We even tapped into our artistic side as we completed our first "unofficial" bartending class.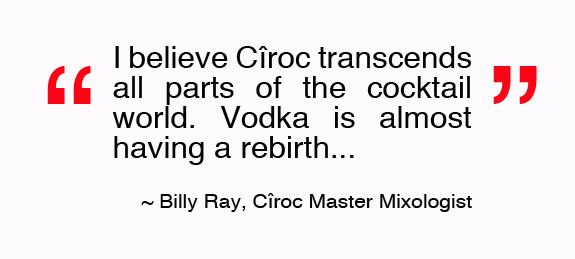 Once we mastered our first lesson, it was time to get down to business and some serious "sipping." Cîroc Ultra-Premium Vodka is very smooth, distilled from fine French grapes, so it's the perfect vodka to mix with a variety of other refreshing ingredients of summer, like lemons, limes, pomegranate lemonade, mint, peaches, strawberries, even champagne and rose petals. We ladies love getting roses, but sipping some rose petal drinks is like skipping summer school and heading straight to honors class!
Photo Credit: Star Walker
It was the best summer school we ever attended. Not only was it in put together in true Cîroc fashion and style, but we also left inspired to consider our own futures as bartenders (at least at our summer cookouts and get-togethers).
Create your own summer sensations with skill. We've shared four of our favorite Cîroc recipes and videos below, so you too can be "top of the class" with refreshing and flavorful options for a cool, cool summer…at least in your glass.
CÎROC AGAVE LEMONADE
Ingredients
3 slices of peach
5 pieces of fresh mint
3/4 ounce agave simple syrup
1 1/2 ounce Cîroc Peach
Directions

[jwplayer mediaid="18238″]
RED BERRY CÎROC LEMONADE
Ingredients
1 1/2 ounce of ruby grapefruit
1/2 ounce of simple syrup
3/4 ounce of lemon juice
1 1/2 of Cîroc Red Berry
1/2 ounce of maraschino luxardo
Directions

[jwplayer mediaid="18239″]
CÎROC SPARKLING COCKTAIL
Ingredients
2 rose pedals
1/2 ounce of pomegranate juice
3/4 ounce of lemon juice
1 1/2 ounce of Cîroc Vodka
champagne to top off
Directions

[jwplayer mediaid="18240″]
CÎROC SUMMERTIME LEMONADE
Ingredients
4 chunks of watermelon
5 pieces of parsley
3/4 ounce of lemon juice
3/4 ounce of agave simple syrup
1 1/2 ounce of Cîroc Vodka
Directions

[jwplayer mediaid="18241″]
Tags Billy Ray ciroc ciroc cockail recipes Ciroc cocktails ciroc drink recipe ciroc drinks ciroc summer cocktails cocktails drink recipes summer cocktails