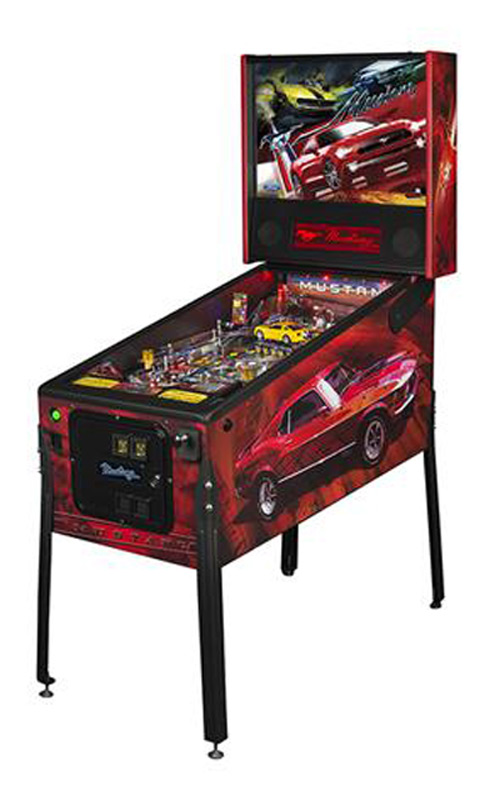 Can you remember the last time you played pinball? Unless you frequent the bowling alley or your local arcade, we are sure it's been some time, right? Well, for those of you who love the old-school thrill of "tilting" the machine and furiously clinking the pinball bumpers, Stern Pinball, Inc. released three new Ford-themed games at the Chicago Auto Show just in time to commemorate the 50th anniversary of the iconic Ford Mustang.
Ford celebrates the 50th anniversary of their famed muscle car with the release of the all-new sleek designed 2015 Mustang. At the same time, Stern is commemorating the 50th anniversary of the very first Mustang-themed pinball game, which was introduced in 1964, by releasing three new 'Stang' inspired games. Featuring over five decades of American culture, the trio of new pony car-themed pinball games combines two symbols of 20th-century American pop culture – the coin-operated pinball machine and the original pony car.
"For five decades, Mustang has represented some of the best of American culture, inspiring a feeling of freedom and independence for people around the world," said Steve Ling, Ford car marketing manager.
VIDEO: Introducing the Mustang Pinball Game by Stern Pinball

[jwplayer mediaid="20836″]
The cabinet and backboard artwork of the three new Mustang-themed games will pay tribute and feature Mustangs from the past five decades. The game will also incorporate a mix of classic pinball play and feature some of the greatest Mustangs of all time, including a video display in the backboard with real Mustang sounds that give players the visceral experience of driving a Mustang. In addition to the Ford Mustang-themed pinball machines, Mattel is also producing a Mustang Hot Wheels collection to mark this milestone anniversary.
READ: Sculpting The Future: Going Further With Ford Motor Company
The all-new 2015 Ford Mustang is highlighted by a range of engine options including a turbocharged EcoBoost® 2.3-liter four-cylinder, a 3.7-liter V6 on the standard engine, and an upgraded 5.0-liter V8 engine with more than 420 horsepower on the GT edition. From behind the wheel to behind the pinball machine, this special occasion offers plenty of play time for car enthusiasts.
A range of apparel and other products is available at merchandise.ford.com to celebrate the Mustangs 50th anniversary.
Tags 50th Anniversary of Ford Mustang Ford Ford Mustang Ford Pinball Machines Pinball