It's not every day that a NASCAR driver and rising star in the stock car racing world offers you a chance to shadow his every move leading up to the 'Great American Race'. In fact, it could be a once-in-a-lifestyle opportunity. So when Mankind Unplugged received this offer, you better believe we accepted immediately, packed up and headed off to the airport. Thanks to Speed Stick®, we were on our way to hang out with sophomore driver Cole Whitt as he prepped for his second run in the Daytona 500.
Luckily for us, Tam-Star was treated to a behind-the-wheel look at 'The Ginger Lion' as he made his first appearance for the year during Speedweeks at the Daytona International Speedway in the No. 35 Speed Stick® brand Ford car. She hung out with Cole on the track, in the garage, and while he made his way to Hooter's (yes, Hooter's) for a personal appearance with Speed Stick®. She did a one-on-one interview with Cole to experience a typical day in the life of a NASCAR driver and how he is able to #DefyTheDoubt.
Tam-Star: How does a kid from Cali take on NASCAR legends in the Daytona 500?
Cole Whitt: I don't know. Just go out there and try to do my job. I've been racing since I guess I was about 12 years old and just have been doing it my whole life. My whole life has probably been 50 races a year or more. It's just something I've always done, so you just keep climbing the ladder. And now you're to the highest ladder and the best racing in the world. There are 43 guys who get to suit up on Sunday and do this race.
A lot of people out there don't have that opportunity. There are a lot of good drivers across the world who come here to compete against these guys. To be one of those top guys and part of the top 43 in the world is pretty cool. I guess I just keep that in my mind, and if we don't have the best run, we're still one of the top 43 in the world.
READ: Interview: NASCAR Driver Cole Whitt Talks Speed Stick®, The Daytona 500, And Plans To 'Defy The Doubt'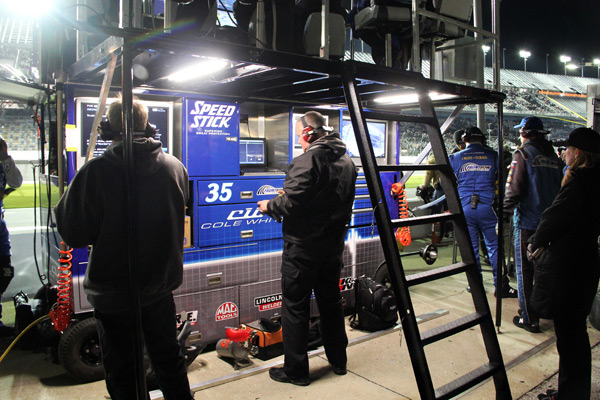 Tam-Star: How do you prepare for a race like the Daytona 500 that is so unpredictable?
Cole Whitt: Having an open mind helps a lot at Daytona because you roll with the punches. You have to be adaptable, and you can't get flustered. It's really easy to get angry out there or lose your focus or just lose your mindset when things aren't going the way you want. When your drafting partners aren't working with you, or whoever you're trying to help in the race or have help you may be is on a different game plan. There are 43 of us with all different mindsets. So to put us all on the same game plan or to have us all thinking the same probably is not going to happen. Preparing for it, I do a lot of training before I get out there.
But at the same time, out there you've got to be able to adapt and be mentally on top of it as much as you can.
Tam-Star: After you qualified for the Daytona 500, Kelly Earnhardt tweeted "And I never go without seeing where @ColeWhitt finished. Good run tonight." What did that tweet and her support mean to you?
Cole Whitt: Kelly's great. The whole Earnhardt family is actually really nice. At the end of the day, this is still strictly a business and it's a tough business because we're with these guys everyday. We spend more time with all these people in this garage area than we do with our families half the time. You grow close to these teams. It doesn't matter if it's the owners or the guys on your crew. I personally can't get in here and work with these guys without getting emotionally attached. You become family.
That mentality maybe struck a chord with Kelly, I'm sure. It's nice to see that means I left a lasting impression on people.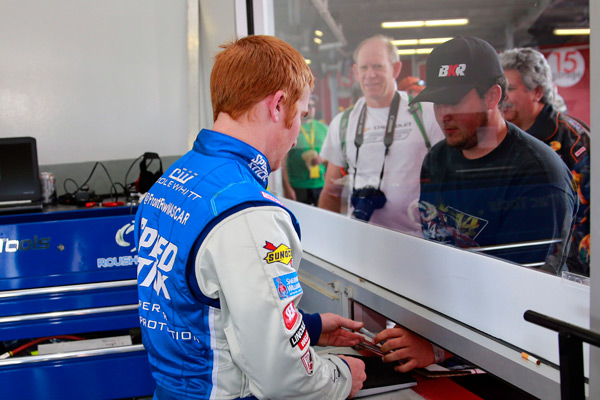 LOOK BACK: Interview: NASCAR Rookie Driver Cole Whitt Talks Daytona 500, 50 Cent, Dale Jr., Speed Stick GEAR, And His Mount Rushmore of NASCAR Drivers
Tam-Star: What does the Daytona 500 mean to you?
Cole Whitt: It's a big race. I guess I lost little bit of the wow factor compared to most people. I feel like on Sunday some of that comes back because, when it rolls around, this place will be a zoo. There are people everywhere, and that brings some of it back, but to me it's another race. It's time to go out and do our job. It's our first race of the season, so we're looking all the way down the road to the end of the year. You've got to set yourself up for that, so we love to just go out there and go crazy and try to win this thing. But if we can just have a good day, that'll mean more to us than anything.
I guess I just look at it as another race.
For more of Tam-Star's interview and to learn where Cole Whitt got the nickname 'The Ginger Lion' click here. To learn more about Speed Stick take the jump over to www.SpeedStick.com and follow the hashtag #DefyTheDoubt.
Tags Cole Whitt Daytona 500 Defy The Doubt Ginger Lion Nascar Speed Stick