Affectionately know by fans as 'The Ginger Lion,' Cole Whitt is no stranger to the obstacles a young driver faces in the NASCAR Sprint Cup Series. At age 23, Cole has already encountered his fair share of challenges, but that hasn't stopped him. If anything, adversity has helped him fast-track his career. Cole is now entering into his second full-time season, and it's easy to understand why when you meet him. This young man possesses the drive and fiery determination that easily explains how he's been leaping over hurdles.
In between qualifying and preparing for the big race, the Daytona 500, Cole was gracious enough to grant our very own Tam-Star a one-on-one interview to discuss driving for a new team, transitioning from a rookie to a sophomore, preparing for the unpredictable Daytona 500, and explaining how he plans to "Defy The Doubt" with the help of Speed Stick®.
Tam-Star: Last year the odds were stacked against you. You wrecked your car in practice. Your teammate wrecked his car and had to use the only back-up car the team had. But somehow you raced your way into the 500 only to run out of gas and wreck after a 6-hour rain delay. What did you learn from that experience?
Cole Whitt: I feel like it's less stressful this year. We're a little more comfortable. The beginning didn't quite go the way I wanted it to. It took me a little while to figure out the new car and the way to race my way up there.
Last year, we'd go toward the front and the back and had to race back through the field a few times. I think, with the experience I got from last year, I was able to put that to use to be more consistently upfront this year – to be more aggressive upfront to keep my position up there. And it made it a little more comfortable in the closing laps to pass the transfer positioning of the top 15.
Video: NASCAR's Cole Whitt Prepares For The Daytona 500 With Speed Stick
The 500 was good to get in, but we didn't finish out the way we wanted to. And some of that probably had to do with the rain delay because guys get in the rain delay and come back antsy, things just aren't the same as if you run through a whole race. My mindset might be a little more consistent if we run through it instead of having a six-hour break in between.
So this year I'm probably going to try to run it how I ran my Talladega race towards the end of the year, which was a little more conservative at the beginning. You know they're going to wreck, so maybe I'll try to get through that first couple stints of the race without being involved in that, a little more cautious and able to close at the end, hopefully.
Tam-Star: In your short career, you have raced for the now defunct Red Bull Racing team, Jr. Motorsports, Swan Racing, BK Racing, and now you have found a new home at Front Row Motorsports. What has been your biggest takeaway from racing for so many teams? What have you learned?
Cole Whitt: I think what I've learned most is just trying to find people that you want to be surrounded with. You know, Red Bull was great the way it all started and obviously, I wish that would have continued, but their choice to shut the team down was their own choice. Same thing with Swan. I had a good home there, and I think we had something doing really well at Swan as well.
The BK thing was picked up when the Swan thing folded, so the BK wasn't necessarily my choice, but it was a great opportunity. We're very lucky that they picked us up, but it wasn't necessarily something I sought out. They picked us up as our team folded, so going through BK, we learned a lot. We tried to help build their team as much as we could while we were there, but just didn't quite get what I feel we could have out of that team.
And when Front Row gave us the opportunity to do something this year, I think we have a really good chance to do a little bit more and maybe get a little more established here, build some really good race cars, build a good team, and maybe do a little bit more. It's still a small team, so the odds are stacked a little bit against us on that side of it, but I think we've got some pretty good chances to get the ball rolling and get our feet in the race a little bit better through the season.
Tam-Star: It's unusual to switch teams during the season. Did you have any doubt that you would be racing when you had to move from Swan Racing to BK Racing during the season last year?
Cole Whitt: Yeah, I didn't really have doubts through the BK stage. I've had doubts throughout my racing career, all the time – it's just part of it. But it's handling that and turning it from doubt to something that's an opportunity. Doubt usually comes when you're facing hard times and opposition, or however you want to look at it.
You always have doubts when it's not easy. And sometimes you can look at them in a bad way or look at them as opportunities. I see those opportunities to rise up and do something, make something out of it. It's not the easiest way to go, but you have two choices: Sit back and fold or rise to the top and like Speed Stick says defy the doubt and change things around here.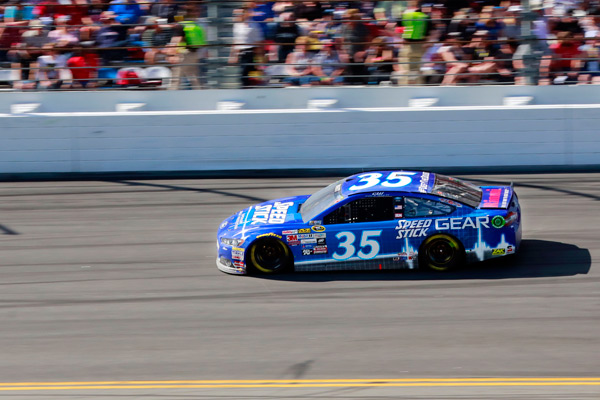 Tam-Star: Are you still doing Cross-Fit?
Cole Whitt: Yeah, I do some cross-fit type stuff. I do a lot of my own workouts, but use cross-fit gyms a lot. That mentality is to put myself in a tough workout, in the hardest regimen and uncomfortable positions I can put myself in helps. Whenever I'm in a racecar and don't necessarily want to be anymore, it's easier.
But at the same time, out there you've got to be able to adapt and be mentally on top of it as much as you can.
Tam-Star: Why is Speed Stick® the perfect sponsor for the #35?
Cole Whitt: I think it's perfect for just the opportunity that we have here. Like I've said, "Defy the doubt is what they said this year and it was "Gear Up" last year – everything that they [Speed Stick] stand for and this team has to go through. It's what we push through every weekend. It's a perfect fit for my lifestyle and what I go through –going through the most stressful situations, making it look easy on the outside and having the stress levels on the inside. I don't see a better fit.
I'm very thankful to have them, and I love having someone who has a product, a mindset, and a marketing scheme that fits my life perfectly. It makes me want to go and represent them well and makes me feel a little more attached to them. And I'm happy to have them because it's something that I represent, and it's my life. That's what they allow me to do.
Tam-Star: What does the Daytona 500 mean to you?
Cole Whitt: It's a big race. I guess I lost little bit of the wow factor compared to most people. I feel like on Sunday some of that comes back because, when it rolls around, this place will be a zoo. There are people everywhere, and that brings some of it back, but to me it's another race. It's time to go out and do our job. It's our first race of the season, so we're looking all the way down the road to the end of the year. You've got to set yourself up for that, so we love to just go out there and go crazy and try to win this thing. But if we can just have a good day, that'll mean more to us than anything.
I guess I just look at it as another race.
Tam-Star: What has the transition been like for you? You came in last year in a big rookie class that included Klye Larson and Austin Dillon who received a lot of publicity with the return of the No. 3 car. Do you feel more pressure now as a sophomore driver with a new team or was their more pressure last year as a rookie competing in one of the toughest rookie classes ever in the history of NASCAR?
Cole Whitt: I think it's gaining that experience, being in the garage more and running more cup races. The regulars get used to seeing you, and you turn from the rookie – the person who's here maybe a year or two – to "Hey, this guy's getting some really good experience. He's done this before. We've seen him rise to the top in some of these situations."
So going into the second year, if we just continue to steadily improve, that allows people to see us in this garage and take note of us. They get used to seeing you and like having you around. The guys work with you a little bit more when you're on the track now, and you get a little more trust and respect out of everyone in the garage.
Through the year, I can see people warming up a little bit. It's different from last year. And maybe thinking, "Hey, this guy's here to stay."
LOOK BACK: Interview: NASCAR Rookie Driver Cole Whitt Talks Daytona 500, 50 Cent, Dale Jr., Speed Stick GEAR, And His Mount Rushmore of NASCAR Drivers
Tam-Star: Okay, one last question… what's the Ginger Lion?
Cole Whitt: Ah, we need to get the pit board back. I was actually talking to them [team] about that the other day. I was in my dual race and couldn't find the pit board that we used to have.
A guy gave me the nickname from the Swan team, and I just kind of rolled with it. I said, "Let's make a pit board out of it. Let's have some fun. Maybe fans like that kind of stuff." We enjoy it. It's not bad to be a lion [laughter].
For more information on Cole Whitt, please make sure to visit his official website www.ColeWhitt.com. To learn more about Speed Stick take the jump over to www.SpeedStick.com. Make sure to follow the hashtag #DefyTheDoubt.
Tags Cole Whitt Daytona 500 Defy The Doubt Nascar Speed Stick