We came, we saw, but unfortunately we didn't "Capture The Crown." Last week we told you guys all about our upcoming adventures competing in Crown Royal's two-day long scavenger hunt centered around the "Your Hero's Name Here" program leading up to NASCAR's Brickyard 400. Well, it went down last week at the Indianapolis Motor Speedway and although we didn't win, we came away with a bunch of new friends, we met a real life hero, we got up close and personal with Dale Earnhardt Jr., received a thumbs up from Jimmie Johnson (2012 Brickyard 400 winner), we kissed the bricks, enjoyed a little whisky, and we found a new love for NASCAR racing among other things. We definitely enjoyed a "Super Weekend!"
Like an all-star athlete on a recruiting visit at a top university, Crown Royal spared no expense in showing us a good time in Indianapolis. After meeting the other 11 Bloggers chosen to take part in the "Capture The Crown" program, we were treated to dinner, given an overview of the weekend, and were off to the races.
Super Weekend Day 1
The Scavenger Hunt – It's on Blogggggggers! Grouped into teams of three, we learned that the winning team would not only win a new iPad, but would also be treated to an all-expense paid trip to be determined at a later date. Talk about pressure.
The ingeniously designed scavenger hunt gave us an opportunity to gain a better understanding of the Indianapolis Motor Speedway's history, the Sprint Cup Series, Crown Royal, Big Machine Records, and of course what fanatical fans of NASCAR already know…it's AWESOME. Each team was given a customized purple iPad, which was loaded with a specially designed app that included an entire list of unique tasks to help us capture the crown.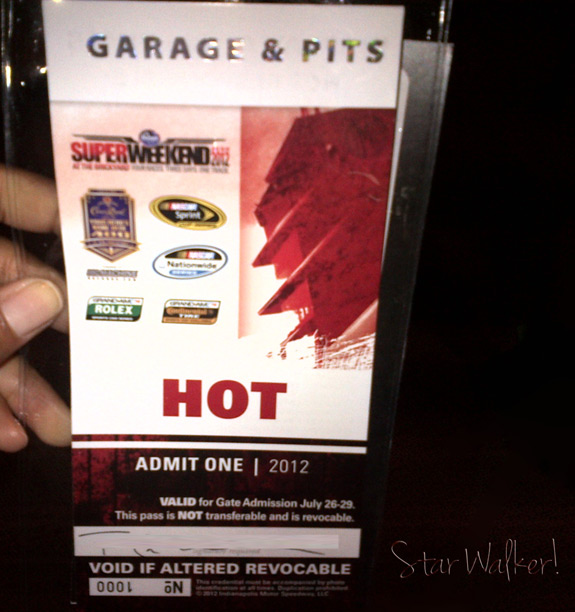 Thanks to our very own Crown Royal appointed team leader (Awesome Travis from Taylor Strategy), a media credential and a hot pass that allowed us to go into the garage and pits, we had all access to the entire track. We were even allowed to hit the track for a ride in a Chevy car at 120 mph as well as go back stage at the Big Machine Records concert. In addition to enjoying the Crown Royal hospitality suite, one of the highlights of our all-access status was the ability to chat with the "Your Hero's Name Here" winner, Curtiss Shaver.
The entire race was named after Curtiss Shaver and we must say he deserved it. Curtiss lost the lower part of his left leg through an accident, but he persevered and began a lifelong career as a firefighter and certified EMT.
We were honored to have an opportunity to chat with him as well as military personnel, veterans, and more. Below is a small clip of Curtiss answering a few of our questions while we took a bus ride with him through Indianapolis before heading back to the Indianapolis Motor Speedway to attend a VIP event hosted by Crown Royal.
VIDEO
[jwplayer mediaid="14777″]
READ MORE
Tags Brickyard 400 Crown Royal Crown Royal and NASCAR Curtiss Shaver Dale Earnhardt Jr. Jimmie Johnson Nascar NASCAR Sprint Cup Series Your Hero's Name Here