As far as classic Father's Day presents go, fragrances from Old Spice have to lead the list. With 80 years in the business helping men smell "betterer, fresher, and manlier," Old Spice has become a staple for most guys' grooming routines. Just in time for this year's dads' holiday, Old Spice has helped make shopping a little easier by offering two gift packs geared for guys who want to look good. If you are a last-minute shopper or you're just sick of picking out a new tie or BBQ accessory, Old Spice has made is easy for you to snag Dad the trendiest and most masculine scents of the season.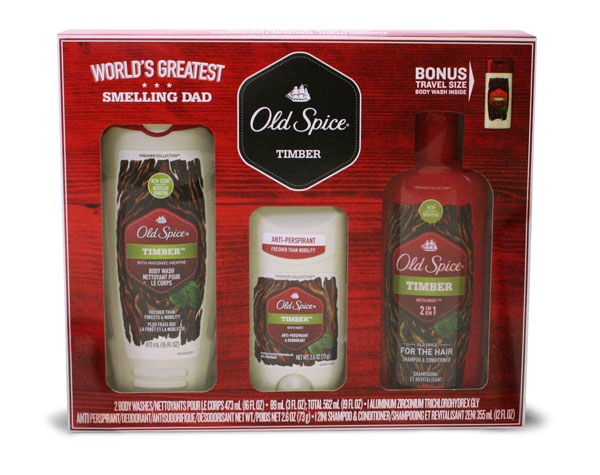 This special Father's Day package includes Old Spice's brand-new Timber Scent Kit and the Swagger Pack. Each bundle includes an anti-perspirant/deodorant, body wash, and a 2-in-1 shampoo and conditioner designed with dudes in mind.
VIDEO: Old Spice | Dadsong | #SmellcometoManhood

Old Spice Giveaway

Since we think it's a smart idea to treat your father to his new favorite male-centric fragrance, we are giving away one of these packs for your perfect last-minute gift. If you want to surprise your dad or any other top pop in your life (OK, or you just want to keep it all to yourself), you can enter to win simply by following us on Twitter @Man_Unplugged and sending us a tweet with the hashtag #OldSpice.
We'll be reading and will choose our favorite 140 characters or less on Sunday, June 21, 2015. Winners will be notified by email.
Over the years Old Spice has become popular with funny videos and catchy commercials. Marketing aside, the brand has become the authority on the male grooming experience. The quintessential name in men's self-maintenance, Old Spice is the No.1 selling anti-perspirant/deodorant stick and body wash brand for guys of all ages. So, the name on your gift will say it all: You're an awesome son.
READ: Smell Betterer and Manlier With The New Old Spice Fresher Collection
The Old Spice Timber Scent Kit and the Swagger Pack are available at select Target, Walgreens, and Rite Aid stores nationwide, so don't wait go pick up one for your dad today. For more information on the kit or pack and non-pack products, visit OldSpice.com and make sure to follow Old Spice on Twitter (@OldSpice), Facebook (Facebook.com/OldSpice), and Instagram (@OldSpice). You can also follow the hashtag #oldspice. And don't forget to subscribe to their YouTube channel (YouTube.com/OldSpice) for hilarious and highly informative videos sure to help you put an extra strut in your step.
Disclaimer: This giveaway is sponsored by Old Spice.
Tags Father's Day Giveaway grooming Men's Grooming old spice Old Spice Deodorant