Over the past couple of years, there hasn't been a more fun story in the NBA than the rise of the Golden State Warriors. And frankly, there might not be a more entertaining personality on the reigning NBA champs than Draymond Green.
Green is one of the most charismatic players in the league, even if his rise to the top of the NBA is unusual. As most probably know by now, "Day Day" was largely overlooked by NBA teams, despite being a first team All-American at Michigan State and the 2012 Big Ten Player of the Year. He ended up as a second round pick in the 2012 Draft, viewed by most, as a guy too small to play in the paint and too slow to play on the perimeter. Of course whatever Green lacked in natural skills, he made up for in heart.
In three short years in the NBA, Green has emerged into one of the most versatile role players in the league. This past season he averaged just under 12 points, with eight rebounds and nearly four assists a game, finishing second in voting for both the NBA's Defensive Player of the Year and Most Improved Player. Oh, and if you hadn't heard, he also helped the Warriors win their first NBA Championship in 40 years as well.
READ: Interview: Ben Simmons Talks College, Gatorade Player of the Year Honors, And Crazy Fans
That's right, it's good to be Draymond Green, and he recently caught up with Mankind Unplugged to discuss his unlikely rise to the top of the NBA. From his unorthodox skill-set on offense, to guarding LeBron on defense, and what his favorite part about being a member of the Warriors is, Green discussed it all.
We caught up with Draymond at the Gatorade Player of the Year Awards and here is the Warriors' forward… unplugged!
Tam: Who is the hardest to guard in the NBA?
Draymond: There have been multiple different guys for different reasons. You know, obviously, KD is tough to guard. He can score so many different ways. He is so agile. He is 7 feet moving like a point guard, shooting like a shooting guard. He can post up like a 3 or 4 man and can rebound like a 5. He is so versatile. It makes him hard to guard. The one guy I struggled with early on in my career was Manu Ginóbili. He's just so shifty.
There's a lot of different guys that present some challenges. LeBron is just so powerful and smart, he gets whatever he wants. There's a lot of different guys, you know, that present different challenges.
Tam: What do you think has been the biggest transition going in front of Mark Jackson as coach to Steve Kerr?
Draymond: I believe the biggest transition for me was the offensive styles. Coach Jackson was a little more iso, a little more pick and roll. Coach Kerr is like everything is based on ball movement. That's the biggest adjustment as far as offense.
Tam: Aside from winning a championship, what's been your favorite part of the season so far? Or what was?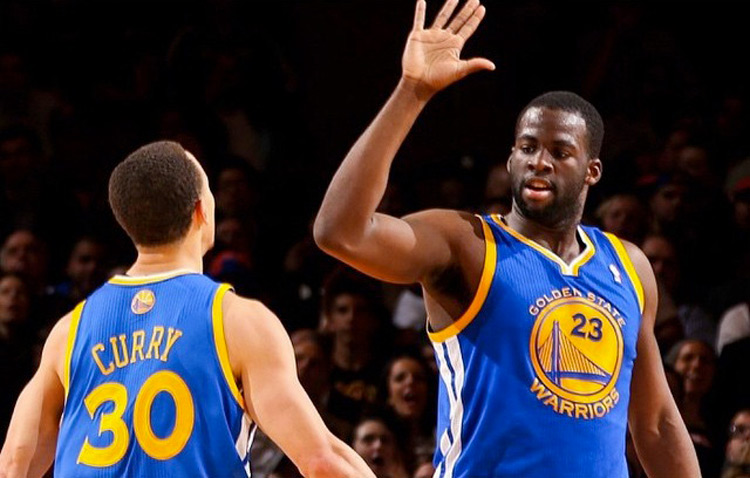 Draymond: Just every day with my teammates. We have fun all the time. Whenever we're around each other, whether it's on the plane, in practice, in film, during the games, before the games, dinner, we always have fun together, so just being able to have fun with my teammates and the relationships that we create, they'll last for a lifetime. It's really a brotherhood.
Tam: I've got to ask, what's the first thing you bought since you got your extension?
Draymond: It's been nothing serious. I've brought small stuff.
Tam: Nothing? A watch? Breitling?
Draymond: No, nothing major. I think my first purchase was some glasses.
Tam: Gucci, Fendi, Ray Ban?
Draymond: Prada
Tam: What has been the craziest thing somebody has said to you on Twitter?
Draymond: Oh, they've been going at my head. It's been brutal, but it's funny to me. They've been all over the board, whether it was involved in the contract, you suck, you don't deserve it…whether it's about don't talk to Charles about the Cavs, Lebron will kill you, this that and the other. It was just all over the place, whether it's people calling out your name or…but it's fine with me.
Tam: How does it feel going from the second round in the draft and in three years already receiving big contract?
Draymond: I mean it's a great feeling because it just means I had to prove myself. I mean that's really what my whole life has been about. I wanted to be first round pick, but after I wasn't, I've always had to work to prove myself, and this was just another instance. So to be in this position after three years ago, I was second round pick and everyone over looked me, it really goes well with my story, the way my entire life has been.
Tam: Okay, last question — what would people be surprised to know about you?
Draymond: I'm really, really chill, laid back. It might just be the way I play, I'm just always hyper, but I"m really chill and laid back, so for all the haters…I'm actually a pretty cool dude.
Photo credit: Draymond Green/Instagram
Tags Draymond Green Golden State Warriors Interview nba NBA Champions