Photo credit: JJ Watt/Instagram

Simply put, J.J. Watt is one of the NFL's most dynamic players. On the field, Justin James Watt known to the world as J.J. Watt has a reputation as the tough, rugged, bloody-faced star of the Houston Texans defense. Through four short years in the NFL, Watt has developed into one of the most feared defensive players in the league, and over time, he has also become one of the most well compensated. It was just around this time last year that Watt signed a six-year, $100 million contract extension, but even with the pay bump, that didn't stop him from once again having one of the most productive seasons of any player in the NFL. He finished the 2014 season with 20.5 sacks (second in the NFL), while adding 78 total tackles, four forced fumbles, and making the third Pro Bowl of his career.
As vibrant as Watt is on the field, football fans have quickly learned he is equally engaging away. Within the last few weeks Watt was seen skating at a minor league hockey game, posting photos with Arnold Schwarzenegger aka The Terminator, and even had a chance to meet his boyhood crush Jennifer Aniston prior to the 2015 ESPY's.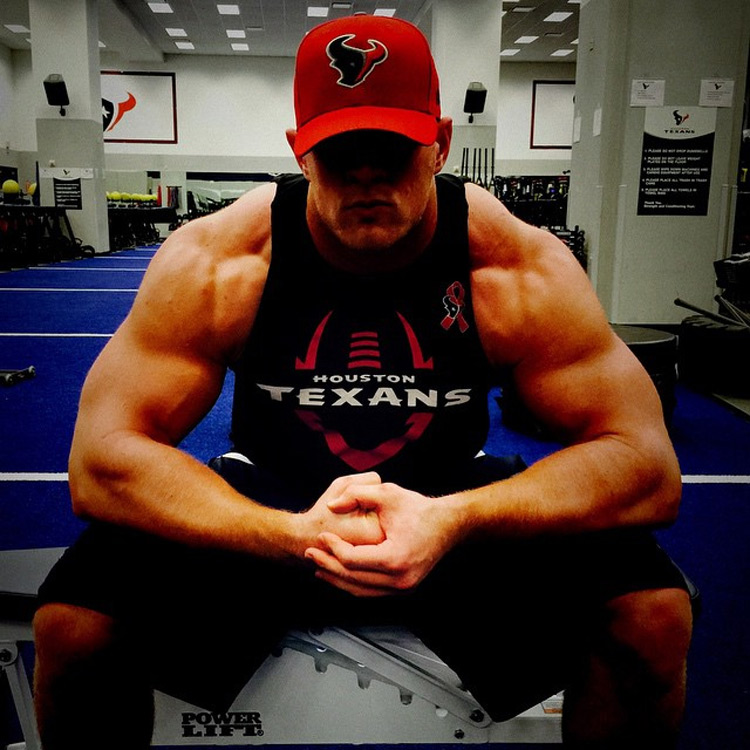 Photo credit: JJ Watt/Instagram

Mankind Unplugged recently had a chance to sit down with Watt at the Gatorade Player of the Year Awards in Los Angeles for an impromptu conversation. Our Tam-Star quickly learned, basically, it's J.J. Watt's world and we're all just living in it. From his outlook on the Texans' 2015 season, to his meet-up with Aniston, and whether he has any other celebrity crushes, here is J.J. Watt like you've never seen him before.
Tam: I did not know I was going to have the opportunity to sit and chat with you, so let's see what we can talk about. This is going to be off the cuff sort of speak.
JJ: …I like going off the cuff. I like your glasses too, those are sweet.
Tam: Thank you.
JJ: What do you want to talk about?
Tam: Whatever you want to talk about.
JJ: Do you like brunch?
Tam: No.
JJ: Brunch is my favorite.
Tam: I was just kidding with you. So, what are you looking forward to next season?
JJ: An opportunity to get better. I'm a big fan of our team and I love the way that our guys are working. I love the way our guys are coming together and the chemistry that we have. So I'm really looking forward to getting back to work with those guys and working toward one common goal.
Tam: Great. What would people be surprised to know about you?
JJ: I don't know. I'm a little more goofy than I think people give me credit for. I like to have fun. I like to have a good time. People don't always get to see that.
Tam: I've read some comparisons between you and Gronk [Rob Gronkowski]. What do you think about those comparisons?
JJ: I think he's an absolutely phenomenal athlete, so I appreciate those comparisons in that aspect. I would imagine we live a little bit different lifestyles, but I like that he goes out there, and he owns it, and he has a blast doing what he does. He also has a few brothers in the NFL and I have a few brothers in college…I have a lot of respect for the guy's game.
Tam: Where are your brothers now?
JJ: They both play for Wisconsin.
Tam: Positions?
JJ: One is a fullback and the other is an outside linebacker.
Tam: So pretty good chance they're gonna make it in the NFL?
JJ: I hope so. You never know, but I hope so. They're working their butts off to try.
Tam: Aside from Jennifer Aniston, who else do you have a crush on?
JJ: That's it. That's it, she was the one. Jennifer Aniston, I really don't even know what it was, but for years and years it's been Jennifer Aniston, so she's the one.
Tam: You watched Friends growing up?
JJ: I did watch Friends growing up.
Tam: And you said people would be surprised to know you're goofy. Do you get a chance to let that personality shine or do you hold it back because of sponsors?
JJ: I'm letting it out more and more. I'm having more fun as I go. I'm taking myself less seriously, which is a lot of fun. Yeah, trying to let loose, relax.
READ: Interview: Ben Simmons Talks College, Gatorade Player of the Year Honors, And Crazy Fans
Tam: If you weren't playing football, what do you think you'd be doing?
JJ: I'd be coaching high school football, maybe in the military. I'm not really sure, but coaching high school football is definitely extremely close to me, so I think I'll do that someday.
Tam: Marines or Navy?
JJ: I don't think I'd pass any of their tests, like I can't run miles and miles.
Tam: But you said you'd want to be in the military.
JJ: I know, but I would be a lot smaller, so I don't know if I could do it at my size now.
Tam: Gotcha. I know our time was short, but thank you.
JJ: Thank you, wonderful to meet you.
Tags Houston Texans JJ Watt NFL