When you speak, you should be heard loud and clear. Thanks to Samson, you don't have to worry whether or not the words coming out of your month are understood. Samson has perfected its USB microphone line with the all new Samson Go Mic portable USB condenser microphone. The smart and compact design, which is compatible with both Mac and PC open up a torrent of possibilities for crystal clear sound.
The switchable and omnidirectional pickup patterns allow for versatile, environment-specific sound capturing. And with the frequency response of 20Hz–18kHz and resolution of 16-bit, 44.1kHz a polished, professional flair can easily be in your grasp. Just clips it into a laptop or set it on a desk, and you are ready to go.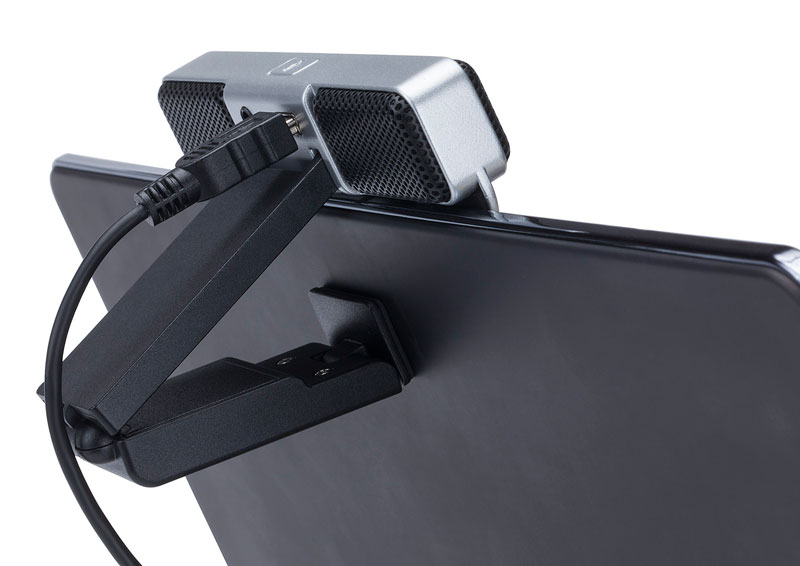 "So Far Away From Home? No Problem."
If long-distance communication is your thing, the Go Mic provides definitive in-person clarity. So if your online business presentation requires extra elocution to whip those foreign investors into shape, or if you just want to be reminded of your daughter's beautiful voice from your lonely room in Timbuktu, the Go Mic delivers. With Skype, iChat or Facetime, your experience is only enriched with the Go Mic.
If creativity is your thing, the applications for recording music and voice-over sound editing could turn your hobby into a profession. And the potential for better podcast recording is huge, with CD quality audio. If your hobby or trade depends on voice recognition software and/or Voice over Internet Protocol (VoIP), rest assured the Go Mic presents much cleaner processing.
The optional Samson Sound Deck Noise Cancellation Software, available as a paid download, brings even more enhanced computer recording to your world. This specialized tech filters out excess background sounds from large settings, allowing only your voice to carry through as naturally as possible.
The Samson Go Mic retails for $79.99 and is available at SamsonTech.com. It includes a USB cable, cable clip and carry case, all custom-designed and ready for action. You just bring the noise and a pair of headphone if you think you need some. The Samson's flagship Z55 Professional Reference Headphones would be a great option. When designing the Z55s, Samson wanted to create a pair of headphones that weren't overly hyped, but play to experienced audio professionals. They succeeded with a durable, lightweight, and sleek headphone that is a perfect companion for the Samson Go Mic.