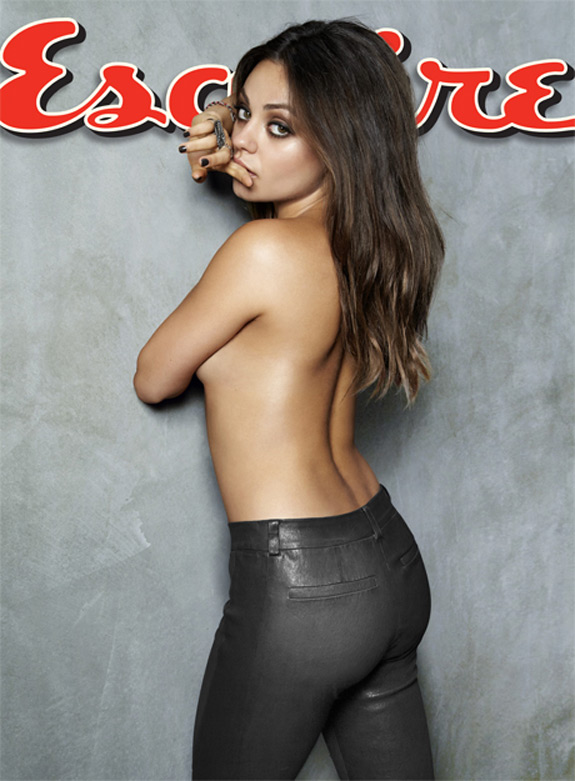 Is Mila Kunis the sexiest women alive? Sexy and unique beauty, yes; sexiest women alive, not so much. At least we don't think she is, but what do we know, we are women. Men, what do you think?
Excerpts from Mila's Interview with Esquire.
So I spoke with Seth about you. And he mocked me at least once.
Only once?
I used the word wonderful to describe your voice.
Oh, God.
What I meant was textured and interesting and great for an animated show. And he started laughing. He said, "Wonderful would not be the word I would use to describe it. Overpowering maybe."
He's such a douchebag. I keep telling him, "Sarcasm does not translate well in print." And he is so fucking dry. I've known him since I was fourteen, and I find self-deprecating humor great. I tell him, "You can mock away because I know who you are. In print, though? You're going to come off like an asshole. So be careful."
Do you think you're funny?
I think I stumbled upon doing funny things, but I'm not funny. I just know how to deliver a joke. There are people who naturally exude humor and are constantly saying funny things, and there are the people who know how to deliver a joke. It's a learned skill. Through twenty years of doing this, I practice it. I think that the second you think that you're funny is when you stop being funny.
How do you learn to deliver a joke?
Practice. Eight years of a TV show. You learn a lot. Jokes come in threes.
Rhythm.
That's all you need. You have to know the rhythm of a joke. And you can learn the timing of a joke, but it doesn't mean that you're going to become Lucille Ball.
Are your parents funny?
My dad is dry and sarcastic, and my mom just laughs at everything.
She got her start by being funny, at least in the Hollywood sense.
As a teenager she was the funniest part of a successful sitcom (That '70s Show). Then a supporting part in a small but successful romantic comedy (Forgetting Sarah Marshall). Then things took a gritty turn, a meaty role in a bigger movie alongside a huge star (The Book of Eli, Denzel Washington) and a startling performance as a crazy and manipulative diva in Black Swan, which happened to involve kissing another woman. Then another romantic comedy, a starring role with Justin Timberlake in the successful Friends with Benefits.
It's been a busy career so far, but its trajectory is perhaps not unusual for a beautiful, talented actress in her late twenties. What is unusual is the story of her life before she was cast in her first commercial at age nine (after being discovered at a child-actor showcase by the woman who still manages her).
She was eight, in 1991, when she immigrated with her parents and her brother from Ukraine to escape anti-Semitism and the turmoil that came with the collapse of the Soviet Union. Her family moved into a two-bedroom, one-bath apartment in Los Angeles, at the corner of Sweetzer and Melrose, right in the heart of West Hollywood. Mom, Dad, brother, grandfather and grandmother, her other grandfather, and her. They lived there for about four years as her parents worked jobs quite different from the professional careers they'd abandoned back home. It's not the usual tale of a young Hollywood star. Who wouldn't want to talk about it?
Read more the entire interview at Esquire.com.
VIDEO

[jwplayer mediaid="15465″]
Tags Esquire Magazine Esquire Sexiest Women Mila Kunis Mila Kunis Esquire Mila Kunis Photos Sexiest Women Sexiest Women Alive Sexy Photos