It may be the holidays, but school is still in session – CÎROC Holiday School of Mixology, that is. With the holidays upon us, we gladly accepted CÎROC's invite to learn more about mixing our own holiday drinks. The holidays are the perfect time to relax and enjoy, so we couldn't pass up this opportunity to brush up on our mixing skills and get in the holiday spirits.
After attending CÎROC Summer School earlier this year, we must admit our expectations were high. CÎROC is one of the smoothest premium vodkas on the market, making liquors that could liven up even the best parties. Needless to say, the brand didn't disappoint.
READ: Mixology: Summer School With CÎROC Ultra-Premium Vodka
Before our first lesson at the beautiful, newly-opened Powder Room inside the St. Felix Bar in Hollywood, we were treated to a very delicious cocktail called the "Coquito CÎROC". Conceived by master mixologist and celebrity chef Richard Ingraham, the Coquito was a tasty mix of CÎROC Coconut, pineapple juice, coconut cream, milk, and egg whites with a dash of cinnamon, nutmeg and allspice. After wetting our whistles with this unusual creamy cocktail, we were ready to make a stir at our bartending stations.
Once we were in our spots, it was time to get down to the business of some serious mixology. With our taste buds still savoring the CÎROC Coconut, we were ready to experiment with some fun flavors using CÎROC and CÎROC Red Berry. We were also introduced to the newest addition to CÎROC's family of luxury spirits, the CÎROC Amaretto we're just nuts about. We can't give enough positive praise for the pleasantly smooth taste of CÎROC Amaretto, a rich, cherry-almond infused vodka with a touch of vanilla and a silky-smooth finish. One of our favorite recipes of the session (aptly named the Lady Genevieve), included CÎROC Amaretto and Hennessey. Yes, we mixed white with brown liquor. And success!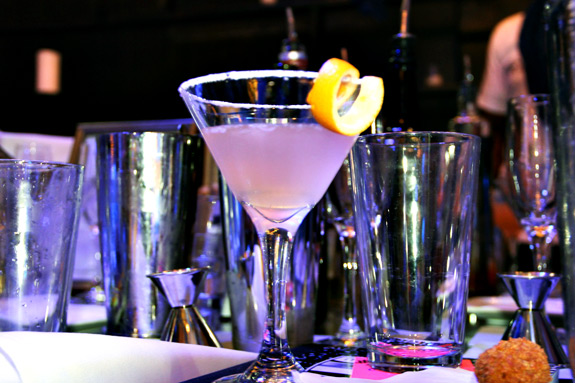 We won't be signing up for bartending school any time soon, but thanks to CÎROC Ultra-Premium Vodka, we think we have mastered the art of mixing some delicious drinks. Cheers to hands-on learning that leaves all five senses tingling.
You can create your own concoction for the holidays with these creative recipes:
COQUITO CÎROC


Ingredients
1.5 oz. CÎROC Coconut
.25 oz. Pineapple Juice
.5 oz. Coconut Cream
1 oz. Milk
1 Egg White
1 Dash Cinnamon
1 Dash Nutmeg
1 Dash Allspice
Combine all ingredients. Shake, strain.
Glass: Collins
Garnish: Coconut Shavings
LADY GENEVIEVE


Ingredients
1 oz. CÎROC Amaretto
.5 oz. Hennessy Cognac
.5 oz. Simple Syrup
.5 oz. Lemon Juice
1 Dash Bitters
Combine all ingredients. Shake, strain.
Glass: Stemless Flute
Top with 2 oz. Sparkling Wine
CÎROC RED BERRY MULE


Ingredients
1.5 oz. CÎROC Red Berry
1 oz. Pomegranate Juice
.75 oz. Simple Syrup
.5 oz. Lemon Juice
1 Dash of Bitters
Top with 2 ounces of ginger beer
Garnish: Berries
ROMAN CANDLE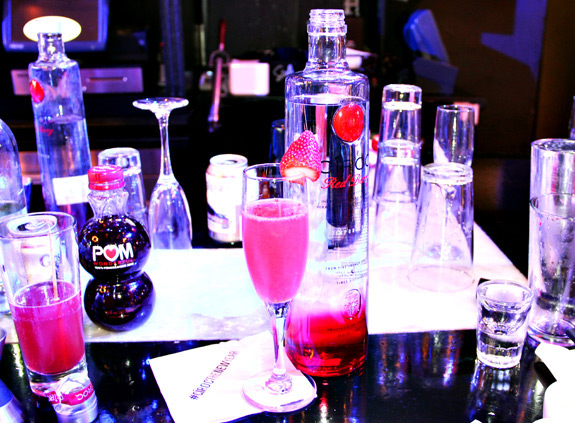 Ingredients
1 oz. CÎROC Red Berry
.5 oz. Simple Syrup
.5 oz. Lemon Juice
1 Strawberry
Muddle fruit with Simple Syrup
Add remaining ingredients
Shake, strain.
Glass: Stemless Flute
Top with 2 oz Sparkling Rose Wine
Garnish: Strawberry slice
For more clever ways to mix CÎROC make sure to visit www.Ciroc.com. Don't forget to use hashtag #CIROCthenewyear on Facebook and Twitter to spread the spirit on your favorite social media site. As the "Official Vodka of New Year's Eve," CÎROC teamed up with transportation app Uber, a company that will provide discounts for safe rides home on New Year's Day 2014. If CÎROC receives 10,000 pledges with #CIROCthenewyear, Uber will provide new Uber users with a $25 coupon code, up to a maximum total of $1,000,000. Now that's a commitment to encourage everyone to never drink and drive.
Tags ciroc ciroc cockail recipes Ciroc cocktails ciroc drink recipe ciroc drinks ciroc holiday cocktails cocktails drink recipes