When we started Mankind Unplugged, we never would have imagined that we'd talk about topics like building an engine. After all, we are girls – we thought we would tell you guys about what we know best – namely fashion, relationship advice, and a bit of offbeat news. But, thanks to Valvoline, we were given an all-access look at the new Valvoline Reinvention Project. We even learned a little about building an engine at Hendrick Motorsports Facilities in Concord, NC. Hendrick Performance is one of the country's most renowned facilities in racing. Utilizing the best restoration equipment, mechanics, specialists, and cutting-edge machinery, Hendrick is well known for building state-of-the-art custom vehicles.
Valvoline was partnered with the Hendrick Motorsports team from 1993 to '95, when they won their first Cup championship with legendary driver Jeff Gordon behind the wheel. Through 2017, Valvoline will again be the official lubricant for the team's racing cars in the NASCAR Sprint Cup Series. Sprint Cup drivers and Hendrick teammates Jeff Gordon, Kasey Kahne, Jimmie Johnson, and Dale Earnhardt Jr., will serve as spokespeople to promote the petrol product. To celebrate rekindling their relationship with one of NASCAR's most revered teams, Valvoline invited us for a first look at the two classic Chevy trucks transformed by Jimmie Johnson and Dale Earnhardt Jr.
VIDEO: Valvoline Reinvention Project

[jwplayer mediaid="21323″]
Jimmie and Dale Jr. have worked with Valvoline behind the scenes to reinvent the two trucks. In a first-of-its-kind consumer challenge called the Reinvention Project, participants are able to select parts hand-picked by drivers via a virtual garage hosted at www.ReinventionProject.com. At the website, car lovers can reinvent the trucks online for a chance to win the grand prize – a custom-built Hendrick Performance Shop Truck.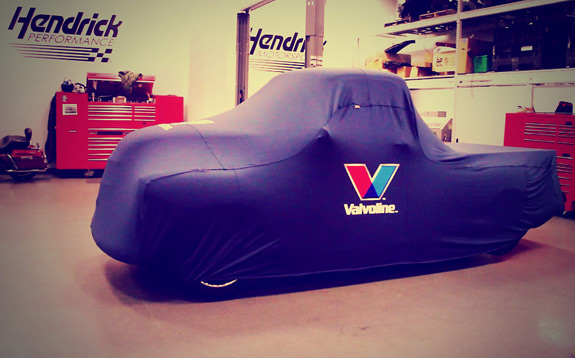 Before we impressed everyone with our DIY skills in Valvoline's Engine Builders' Boot Camp, we attended the Reinvention Project truck big reveal. The trucks were unveiled to us before Jimmie and Dale Jr. even saw the finished products. Fans have the opportunity to get in on the action until March 31, 2014, so you can still guess what the guys used to turn their trucks into high-performance vehicles. We can't reveal what the trucks look like, but we can tell you that they are awesome! Not only do they look great, the engines sound incredible. We were afforded an opportunity to do truck ride-alongs at the Zmax Dragway at Charlotte Motor Speedway before Jimmie and Dale Jr. jumped behind the wheels of their reinvented trucks for a challenge and commercial shoot with Valvoline. Oh yeah, did we mention we also had a chance to interview the guys?
As NASCAR fans and car enthusiasts, the chance to go behind the scenes at the 100-plus-acre, world-class Hendrick Performance Complex was surreal. Learning about building an engine side-by-side with guys who helped build powerful NASCAR engines was an honor and a privilege. Hendrick's engine shop supplies engines to 11 NASCAR Sprint Cup teams, 5 teams in the Nationwide series, and 2 Camping Truck outfits. While we were there, we built a Chevrolet R07.2 engine with the help of Hendrick master technicians who were impressed with our skills in the shop. As one tech said, "You know your way around some tools."
Valvoline has reinvented motor oil for over 140 years, making them the perfect partner for Hendrick Motorsports – one of the most dominant forces in the sports on and off the track. For more information about Valvoline's Reinvention Project, make sure to visit www.ReinventionProject.com and Valvoline.com. To keep up will all the action on social media, follow the hashtags #Valvoline, #TeamJimmie, and #TeamDaleJr. Check back with us once the Reinvention Project contest ends on March 31st to see our exclusive photos of souped-up trucks and read our interviews with Mr. 6x Jimmie Johnson and NASCAR's most popular driver Dale Earnhardt Jr.
Tags Dale Jr. Hendrick Hendrick Motorsports Jimmie Johnson Reinvention Project Truck Valvoline Valvoline Reinvention Project