Duke Cannon Supply Co. is determined to bring masculinity back to male grooming. Gone are the days of sharing soap with your girlfriend- this Big Ass Brick of Soap won't even fit in her dainty little hand.
Duke Cannon is finally filling the gap in men's grooming left by brands targeting teenage boys and metrosexuals. This isn't your average grooming line (and by average we mean: women's bubble bath with an extra pump of sandalwood). This product line is for the mainstream American male.
Duke's line is U.S. Military tested, literally. Duke works with Bravo Company 2-135 to field-test its products, which are modeled after the "brick" style soap produced for American GIs in the Korean War. Even better, Duke donates a portion of its proceeds to Honor Flight; a program that sends veterans to visit their memorials in D.C. at no cost to the heroes.
We're digging this entire line, but our favorites are:
Big Ass Brick of Soap White Bar – RETAIL $17.50 (3-Pack)

With a hint of menthol to cool the skin and wake him up this big ass brick smells like productivity.
Superior Grade 2-in-1 Hair Wash: Thickening Formula – RETAIL TBD

The Limited Edition U.S. Military Field Box – RETAIL $45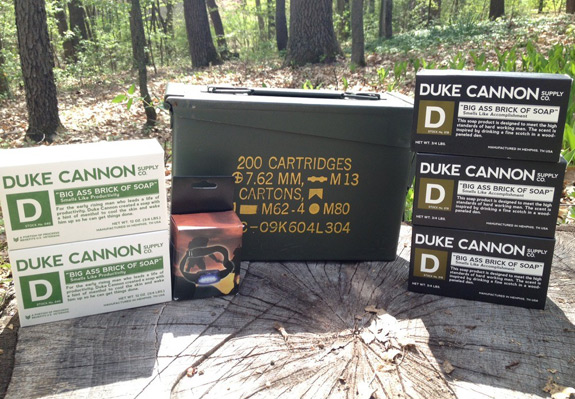 The Limited Edition U.S. Military Field Box not only turns into the COOLEST LUNCHBOX EVER, it's also equipped with a head lamp- because why the hell not? The gift pack also offers a variety pack of 5 big ass bricks of soap (3 black, 2 white).
Duke Cannon is available at more than 500 fine-retailers, or you can simply order online at www.DukeCannon.com. For more of Tracy's favorites and to learn a few DIY tricks, make sure to visit her on Twitter and at TeeWii.com.
Tags Big Ass Brick Soap Duke Cannon Duke Cannon Supply Co. grooming Soap