Yesterday, we brought you a scantily clad Beyoncé on the cover of GQ Magazine. Just 24 hours after GQ revealed the cover girl, they had no choice but to release her full spread thanks to someone leaking another photo.
In addition to her photoshoot with famed photographer Terry Richardson, Beyoncé sat down with GQ Magazine to talk about new music, the Super Bowl, and working with Justin Timberlake. Below are excerpts of her interview.
On working hard:
"I worked so hard during my childhood to meet this goal: By the time I was 30 years old, I could do what I want," she says. "I've reached that. I feel very fortunate to be in that position. But I've sacrificed a lot of things, and I've worked harder than probably anyone I know, at least in the music industry. So I just have to remind myself that I deserve it."
On the Superbowl:
"One of the reasons I connect to the Super Bowl is that I approach my shows like an athlete," she says now. "You know how they sit down and watch whoever they're going to play and study themselves? That's how I treat this. I watch my performances, and I wish I could just enjoy them, but I see the light that was late. I see, 'Oh God, that hair did not work.' Or 'I should never do that again.' I try to perfect myself. I want to grow, and I'm always eager for new information."
"I now know that, yes, I am powerful." — Beyoncé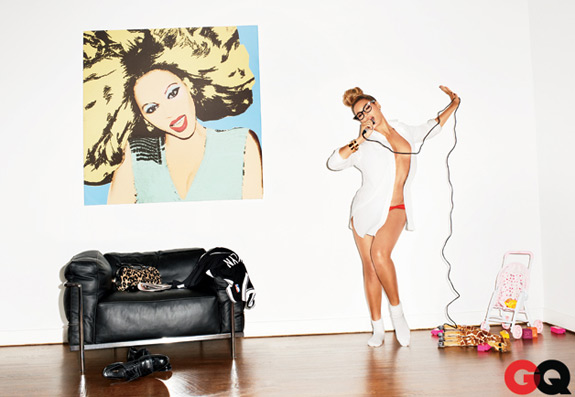 Solange on Beyoncé:
Solange, Beyoncé's little sister (and an increasingly famous singer in her own right), says it has always been this way: "I have very, very early-on memories of her rehearsing on her own in her room. I specifically remember her taking a line out of a song or a routine and just doing it over and over and over again until it was perfect and it was strong. At age 10, when everybody else was ready to say, 'Okay, I'm tired, let's take a break,' she wanted to continue—to ace it and overcome it."
Back in the day, the thing that made her fiercest was protecting her younger sibling. Solange recalls how Beyoncé defended her when they were teens. "I can't tell you how many times in junior high school, how many boys and girls can say Beyoncé came and threatened to put some hands on them if they bothered me," Solange says with a laugh. Beyoncé says she harnessed that same temper to bolster her nerve and fuel her work. "I used to like when people made me mad," she says in the HBO documentary, remembering her suburban Texas childhood, which was shaped (some would say cut short) by her determination to be a star. "I'm like, 'Please piss me off before the performance.' I used to use everything." As Jay-Z rapped of Beyoncé at the beginning of her 2006 hit "Déjà Vu," "She about to steam. Stand back."
On collaborators:
"I've been working with Pharrell and Timbaland and Justin Timberlake and Dream. We all started in the '90s, when R&B was the most important genre, and we all kind of want that back: the feeling that music gave us."
For the full story take the jump over to GQ.com.
Tags Beyonce Beyoncé GQ Magazine Beyoncé GQ Photos Beyoncé GQ Pictures Beyonce Photos GQ Magazine