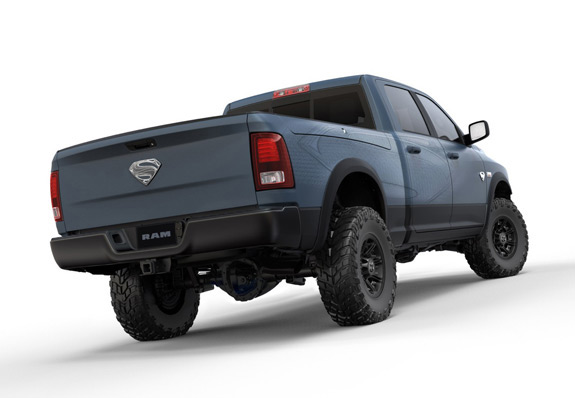 Warner Bros. Pictures joined forces with Ram Truck Brand for a co-branding opportunity with the new 'Man of Steel' movie opening in theaters June 14. The promotional campaign includes a new TV commercial and a print ad illustrated by DC Entertainment comic artist Shane Davis that features a one-of-a-kind customized 'Man of Steel' Power Wagon truck.
The Ram design team created the special edition, one-of-a-kind "Man of Steel" Power Wagon truck which features the Superman logos on the front grille and rear tailgate and a custom. It has forged-aluminum, satin black 17-inch off-road wheels, a high-gloss black roof with anodized red grille accents, and a one-off vehicle wrap inspired by the crest and texture of Superman's suit. The dark ceramic gray truck interior has custom mesh seat inserts reminiscent of Superman's own suit with integrated Superman logos on the seats and console with a "Man of Steel" logo badging.
VIDEO

[jwplayer mediaid="18390″]
Before being auctioned off for charity at a later date the truck will be on display at special events throughout the summer and fall including the world premiere of the movie in New York City. The highly anticipated action adventure is in theaters June 14.
Tags Man of Steel Man of Steel Movie Ram Truck Superman Superman Movie Superman Ram Truck