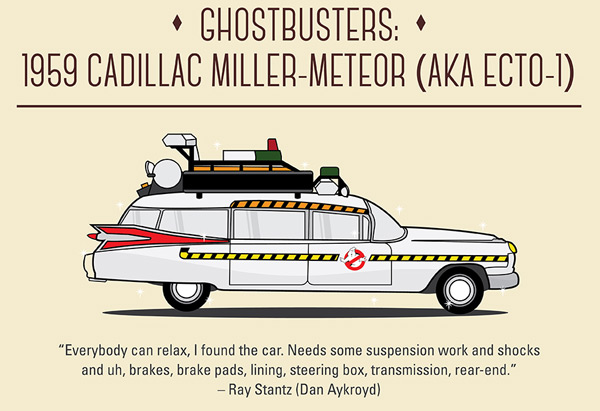 Cars have been a quintessential part of movies for decades. From road trips to chase scenes to pile-ups, cars have often become characters themselves, as integral to the story as the hero. Americans tend to define an individual by the type of car that he or she drives, and nothing defines a movie quite like the car of the main character. Cars have been appearing in movies since the earliest days of cinema, and in all that time there are certain vehicles that have become nothing less than iconic.

"It's got a cop motor, a 440-cubic-inch plant, it's got cop tires, cop suspension, cop shocks. It's a model made before catalytic converters so it'll run good on regular gas What do you say, is it the new Bluesmobile or what?"
– Elwood Blues (Dan Aykroyd)
These vehicles are instantly recognizable and easily associated with a particular film, such as the time-traveling 1981 DeLorean DMC-12 from Back to the Future, The Italian Job's Mini Coopers, James Bond's Aston Martin D85 in Goldfinger, the 1959 Cadillac Miller-Meteor in Ghostbusters, or the Batmobile. Some of them are purely for transport, and some of them are symbols of the hero's personality, but all of them are memorable.Check out the infographic below, which gives some specs, trivia, and quotes about some of the greatest cars ever to be driven in the movies.