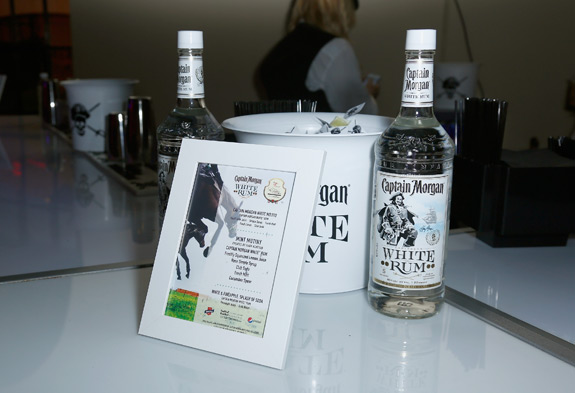 Top Chef judge Hugh Acheson, known for his Southern style of cooking, created the featured cocktail (Mint Mutiny) that was served at this year's Fillies & Stallions party hosted by Captain Morgan. The party is a staple to the Kentucky Derby weekend and the hotspot for celebrities and athletes. Celebrities that were in attendance included Aaron Rodgers, Clay Matthews, actor Josh Henderson, Kris Humphries and NFL player E. J. Manuel just to name a few.
READ: Julep Cocktails For The Kentucky Derby
Captain Morgan has offered to match the winning horse's earnings if it goes on to win the Triple Crown — the greatest accomplishment in Thoroughbred racing. In exchange, the champion's owner must provide the brand with exclusive rights to the horse's offspring, which will be named Captain's Cola. If the owner agrees, the brand will match the horse's earnings – more than $3 million.
INGREDIENTS:
· crushed ice
· 1 teaspoon fresh mint, torn into pieces
· 1½ ounces Captain Morgan White Rum
· ½ ounce freshly squeezed lemon juice
· ½ ounce Rose Simple Syrup
· club soda
· 1 cucumber spear
· 1 mint spring
DIRECTIONS:
Fill a julep cup with crushed ice. Stir in the torn mint. Add the Captain Morgan White Rum, lemon juice, Rose Simple Syrup, and then fill with club soda until the cup is almost full. Top the cup with a mound of more crushed ice and garnish with a cucumber spear. Rub the mint sprig between your palms to express the natural oil and garnish with the cucumber. Serve with a straw.
Tags Captain Morgan Captain Morgan White Rum Kentucky Derby Mint Mutiny White Rum