photo credit: Instagram / @triumphanddisaster
Triumph & Disaster skin care products take you back to those simple times with fragrant old-time scents of bespoke. It is a smell that you won't find elsewhere but one that you'll love. It is the aroma that starts that special connection with this brand, but it is the results that keep users around.
Continuing the effort to keep things simple, the beauty care products offered by Triumph & Disaster are made using only all-natural ingredients. But, as anyone knows, it takes more than a combination of natural ingredients to treat your skin right. It is these ingredients, combined with science, that create outstandingly amazing products that treat your skin the right way.
Triumph & Disaster products are researched and enhanced with today's great technologies. They claim to be safe for any skin type and work wonderfully to enhance your efforts. Looking good has a lot to do with genetics, but it also helps when you treat your skin well. Treat it right with the use of these terrific products!
Our top pick: Triumph & Disaster Old Fashioned Shave Cream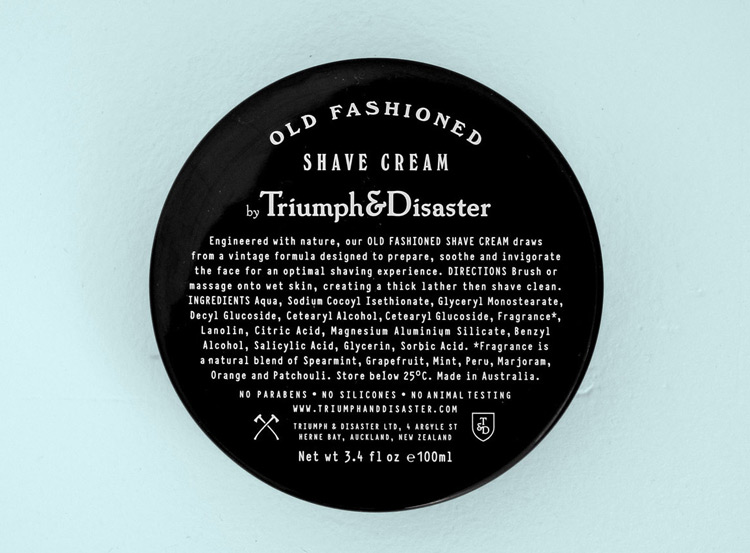 "Triumph & Disaster Shave Cream delivers a great shave without the any of the nasties we now frown upon. Unique aromas of old school medicinal notes, bright, fresh citrus tones and a hint of Turkish barbershop at the back end, evoke a sense of tradition and nostalgia befitting a gentleman's morning ritual."
Triumph & Disaster offers customers only top-of-the-line products made with the highest quality ingredients available. Their product line includes items for your skin and hair. Although there are many items for women available, the real treat with this company is the fact that these products are great for men, too! Moisturizers, soaps, lotions, body wash, shampoo, and conditioner are among the items available for you to indulge your body with. Theses top of the line products will excite you, entice you, and help you look your absolute best.